Mobile learning is crucial for the best learning experience
The flexible use of technology is no longer limited to the private sector. The times when you drove to the office and sat at a stationary desktop in the same place for 8 hours are long gone in international companies. Laptops, smartphones, tablets, and other devices are used to have all work materials and access to internal systems available anywhere, anytime. Meetings, business trips, and training courses are now integrated into the workweek.
However, there is still a large discrepancy between the possibilities of modern technology, and how companies are utilizing them. Remote work, mobile access to data, and even the use of laptops were not entirely common and it was a distant challenge for many companies.
Then, COVID happened.
Companies were forced to quickly switch their employees to remote work, open internal systems for external access, and somehow provide the necessary flexibility. Several steps of digitization, which would otherwise have taken years, were necessarily implemented within a few weeks. Especially when no appropriate devices were available, employees had to temporarily use their private PCs and smartphones. Families were forced to purchase additional devices to enable home-based work and school for the children simultaneously.
Mobile has been on the rise for a while
However, the trend to use smartphones and mobile devices for work did not just emerge in 2020. By 2016, 87% of companies expected employees to use their private devices for work purposes.
In the same year, many service providers also began to make their services, software and also access to internal systems available via apps. In this way, more and more work processes could also be performed from personal mobile devices. This is particularly useful for managers or all those employees who travel a lot or change locations regularly.
Considering the change in behavior over the course of generations, it is quite normal, especially for people under 35, to perform their daily tasks via smartphone whenever possible. Be it checking emails, web research, or even banking, many people have their whole life stored on their mobile phone, carrying everything with them at all times.
A study by code from the UK 2019 showed that, depending on age group, the average smartphone owner spends up to 4 hours a day on his device, with the age group of 16 - 24 and especially women being the highest. This corresponds to between 50 and 60 days a year spent on a smartphone. Considering these figures, it is a logical consequence to shift work more and more in this direction as well.
Nowadays, it is standard for software providers to simultaneously offer a product as a mobile app. In most cases, this is free of charge and can be used via login data. This enables us to use their services independent of location and time. With modern cloud solutions, an Internet connection is all that is needed to access all data stored there. Data security is a constant topic, which is taken into account by means of protective measures and checks, some of which are updated daily.
Looking at the figures, mobile network internet usage has grown so much since 2009 compared to desktop usage that in 2019, it accounted for more than half of global usage for the first time. The number of web pages accessed and queries submitted to search engines was also mobile-dominated for the first time in 2019.
What does this mean for content creation and learning?
Considering this trend, mobile versions of websites are becoming more and more critical, and all forms of software are preferable via mobile devices.
This creates a much greater variation in design and format. Ideally, as much content and functionality as possible should be created in such a way that it can be used on the desktop, tablet, and smartphone while remaining visually appealing. More providers and website operators are now even focusing on the smartphone. From the end user's point of view and for more employees, it is increasingly becoming a matter of course that they can use all tools and systems via a mobile device.
Mobile applications have become an expectation nowadays. This has progressed so far that it is no longer considered positive to offer a mobile app, but rather causes negative feedback if no app is available or does not provide a good user experience.
Anticipations about mobile availability are basically universal and there are only a few areas that are not expected in mobile form. This also applies to learning and development. The market leaders in learning are leading the way: One uses the technical possibilities of the smartphone, push messages, reminders, and cloud storage to interact with the learner in a much more interactive way.
If you take Duolingo as an example, the tendency to learn a new language has increased noticeably through Covid, and also because the inhibition threshold has fallen sharply by turning it into a kind of game. One learns in a microlearning manner using small bits and pieces whenever the time is right. The app regularly reminds you to complete an exercise and uses various tools like scores and badges as additional gamification incentives.
So the question arises why this hasn't long been the everyday reality in corporate learning as well? There is still an assumption in the minds of many content creators and managers that "regular" digital content and mobile content are two separate things. In fact, however, there is no dividing line, or rather, there should not be. All content and this includes learning content, should ideally be accessible from any device and be usable without restrictions. Only then will you have a seamless learning experience without any local or time restrictions.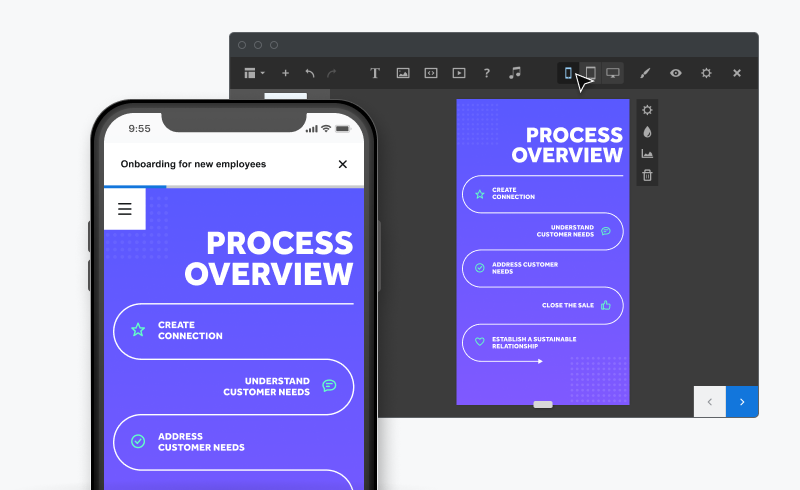 The creation of learning content especially for mobile devices has particular requirements in development and design, but can be quite useful, depending on the subject area. Overall, however, it is sustainable to optimize all existing content for several screen sizes if possible. Looking at the trends mentioned above, the smartphone is likely to continue to outperform desktop computers, which means that the requirements for learning content are also increasingly shifting in this direction.
Many LMS providers still have some weaknesses in the area of mobile solutions - especially when it comes to data. What content was consumed on the go? Which lessons were problematic, too complicated, or were not accepted? By means of xAPI and a Learning Record Store, mobile content can also be synchronized easily and taken into account in data analysis. Our own Valamis Mobile App uses this technology natively and offers the possibility to fetch learners wherever they are.
Conclusion
While many companies are still struggling to digitize their content and deal with the challenges of remote work even today, more and more employees expect to be able to use learning content on the go. With microlearning in particular, far more employees can be reached in this way, since even business travelers and busy employees no longer have to do without learning. The future is mobile, both privately and professionally. Those who prepare themselves for it today will have a clear competitive advantage - also in the future.