Employer Value Proposition
Published
Recruiting top talent to your organization is a difficult task. Top candidates often have a long list of companies to choose from.
In today's job market, building a skilled and productive workforce to meet business goals and future growth means developing a competitive and compelling employer value proposition.
If you don't know where to start, we're here to help. In this guide, you'll learn:
---
What is an employer value proposition?
An employer value proposition (EVP) is the sum of all offerings and associations employees receive in exchange for the time, services, skills, experiences, and capabilities they provide.
Think of it as an organization's proposal to its employees, and an explanation to why jobseekers should choose to work at your organization instead of finding employment elsewhere. Employer value propositions are a vital part of talent acquisition and retention.
---
Employer value proposition vs. employer branding
The concept of an employer value proposition is closely related to employer branding, and in many instances, the two phrases are used interchangeably.
It is easy to see why, though. They are both fundamental to recruitment and retention and complement one another to attract and retain top talent.
However, the difference is how they communicate what it is like working for a specific employer. Whereas employer branding is a set of persuasive reasons to work for a company, an EVP lists the details of all benefits for working there.
Employer branding may discuss the vision and mission of the company.
An EVP lays out an employer's tangible and specific offerings, such as, salary, vacation time, training, etc.
An organization's employer value proposition is the core of its employer brand. Once developed, both EVP and employer branding provide consistent principles and policies defining how an organization is perceived for talent recruitment and retention.
---
Primary components of an EVP
Organizations can break down their employee value proposition into four main categories:
Compensation
The financial reward an organization offers to employees in exchange for their work.
More than just a base salary, the compensation aspect of an employer value proposition covers everything related to employee monetary incentives, such as:
Rewards and bonuses offered
The incentive and evaluation system an employer uses to determine staff bonuses
Future raises and how they are determined (in line with inflation? based on performance? etc.)
Stock options
The timescale (weekly, monthly, etc.) and timeliness of financial compensation
Benefits
The benefits an employer offers that are not directly related to salary or recurring financial compensation.
Examples of the benefits provided by an EVP include:
Vacation/holiday time
Flexible work schedules (flexitime, 9/80 schedule, etc.) and locations (e.g., work from home)
Workplace facilities
Company car or travel allowances
Family planning benefits (Paid parental leave, on-site or nearby childcare facilities, etc.)
Comprehensive health insurance
Pension options
Career
What employees can expect in terms of career planning, development, and progression, such as:
Promotion opportunities
Training and education programs
Consultation, evaluation, and performance feedback
Opportunity to work on challenging and innovative projects
Culture
A company's culture defines what it is like to work for the company, how employees are treated day-to-day, and what employers and employees expect from one another.
Examples of the culture offered by an employer value proposition can include:
Company values
Workplace environment
Employee recognition
Approach to collaboration
Decision making and whose input is valued
Understanding how an employee's role aligns with broader goals
Employee support systems
---
Why do you need an employer value proposition?
The primary benefit of employer value propositions is in recruitment and retention.
An EVP is the basis for an organization's brand and, when implemented successfully, boosts perception both internally (improving retention) and externally (improving recruitment).
Employers are not just competing for customers and clients; they are also competing in the job market.
Research by McKinsey shows the productivity gap between hiring average performers and high performers. Moreover, it shows the gap increases with a job's complexity, suggesting an astonishing productivity boost of up to 800% for the most complex occupations (managers, software developers, etc.).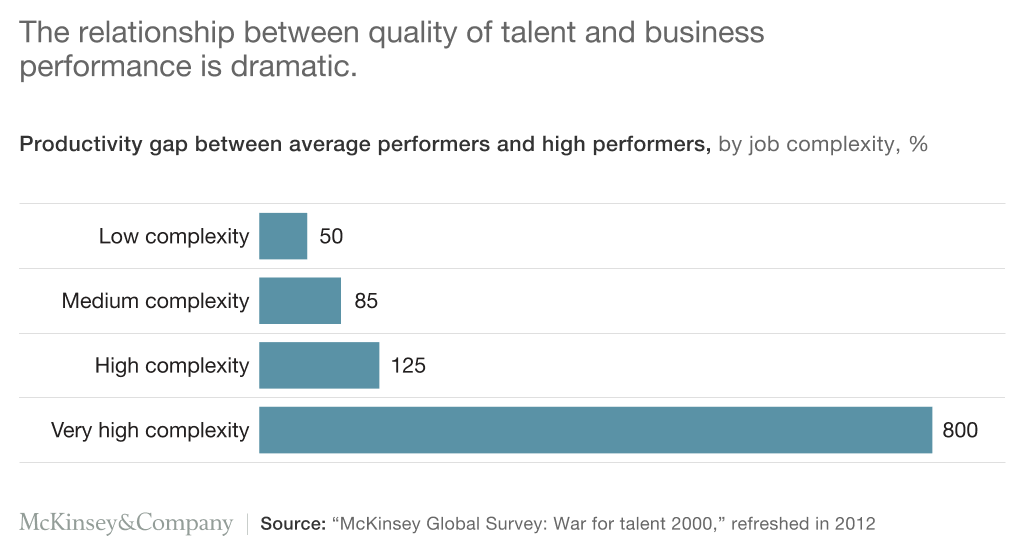 The research also shows that the biggest challenge for almost one-third of senior leaders is talent scarcity. With only so many top candidates to go around, organizations must make themselves an attractive place to work, and this starts with their employer value proposition.
With a consistent and effective employer value proposition, organizations can show potential hires everything they offer and motivate top talent to apply to their open positions. Laying out company culture in an employer value proposition helps find candidates more aligned with the organization's work style, goals, and values.
Having an attractive EVP that goes beyond financial rewards will only become more important in the future. Studies show younger generations have different priorities regarding their relationships with work and potential employers.
For example, research on "Generation Z" by marketing agency Team Lewis found that only 19% of Gen Z would work for a company that does not share their values. Typically, Gen Z is defined as people born between 1997-2012, and they are the generation of people currently entering the workforce for the first time and who will drive the labor market for years to come.
---
Benefits of an employer value proposition
1. Improves talent acquisition
This also filters back to recruitment. According to LinkedIn, the number one way people discover a new job is through referral, and companies can expand their talent pool by up to 10x through employees' networks.
2. Improves employee retention
Improved talent retention can also lessen the impact of employee turnover. By studying 30 case studies, the Center for American Progress found the cost of employee turnover can be up to 213% of the employee's salary.
Companies can hold on to valuable staff members and spend less on recruiting, onboarding, and training by offering an appealing employer value proposition.
3. Branding for consumers
We've discussed how an employee value proposition and the branding it produces is vital for recruitment and retention. But it also has an impact on consumers.
Employer value proposition benefits extend beyond the workforce and affect purchasing intent. For example, the Edelman Trust Barometer report for 2020 states 29% of consumers focus on how well a company treats its employees when considering becoming a loyal customer.
4. Workforce improvements
Successful employer value propositions boost employee engagement and the company's overall culture. This helps motivate staff to improve their work and generates a sense of togetherness and organizational commitment.
Employees committed to an organization also generate secondary benefits by turning them into active advocates for the business. This means discussing the company positively with friends and family and on social media, recommending its services to a greater number of consumers or potential clients.
5. Financial impact
Greater employee engagement results in better work result and higher productivity, increasing the ROI companies get from their workforce. Analysis by Gallup of 35 million workers around the world shows that actively disengaged employees cost companies the equivalent of 18% of their salary.
Of course, salary and financial rewards are significant components of an attractive EVP. Therefore, in order to maximize employee ROI, companies must determine the best trade-off between the financial incentives, their EVP offers, and the additional productivity it produces.
---
Five real-world examples of successful EVPs
So, what do successful and meaningful EVPs actually look like in the real world? Let's take a look at EVP examples from top-rated companies.
HubSpot
HubSpot is a marketing and sales software company with a focus on inbound products.
The company has clearly spent significant time and resources developing and marketing an outstanding employer value proposition.
HubSpot focuses on ensuring a great work-life balance for staff with the tagline: "Work and life should fit together."
This includes an impressive range of benefits such as:
Unlimited vacation time
A company-wide week off in July
Hybrid work model that allows employees to work at home, the office, or a combination of both
Four-week paid sabbatical with a $5K bonus after five years with the company
Discounted stock purchasing options (15%)
Fun activities including virtual water-cooler events and scavenger hunts
HubSpot also offers excellent strategies for staff to develop leadership skills and progress in their careers. From training courses, ThinkSpaces, recognition programs, and tuition reimbursement, HubSpot employees get $5K per year to spend on education.
On top of these benefits, HubSpot's priorities are also laid out in its "Culture Code," a document described as "part manifesto and part employee handbook." It includes HubSpot's five Culture Code Tenets:
We solve for the customer.
We work to be remarkably transparent.
We favor autonomy & accountability.
We believe our best perk is amazing peers.
We lean towards long-term impact.
Showcasing what the company values most and what it looks for in potential employees.
PwC
PwC, or PricewaterhouseCoopers, is a multinational network of professional services and one of the big four global consulting firms.
The company has had tremendous success working with the biggest companies in the world and attracts the best talent available through an enticing employer value proposition.
PwC offers employees' a flexible and competitive benefits program, including:
Accrued vacation time based on staff classification and length of service
Student loan paydown schemes that provide up to $1,200 a year
Commuter benefits programs paying transit and parking expenses
eMobility through covering the cost of staff's phone contracts
Year-round flex days at any point in the year, providing additional time off
The company provides compensation and rewards through a base salary and an annual performance bonus depending on performance and contribution. PwC's performance bonus plan provides quarterly updates to staff, informing them of their progress towards specific goals and bonus milestones. Plus, all compensation is fair and transparent through sharing salary ranges with staff.
Professional development is a core focus at PwC with a range of programs including:
Career milestone awards
CPA (Certified Public Accountant) review course program
Credential bonus award program
Educational supplier and gift matching programs
Netflix
The streaming service Netflix has been developing a distinctive and unique EVP for a long time. Back in 2009, the company caused a buzz when an internal document revealed work policies, including:
Unlimited vacation time based depending on staff requirements
Effectiveness over effort and rewarding staff based on work achieved, not the time spent achieving it
An emphasis on paying high salaries and letting employees decide what to do with it, rather than stock options and bonuses.
Nowadays, Netflix maintains an innovative and exciting employer value proposition with an emphasis on work-life balance through:
Taking Care of Yourself – Parental Leave, unlimited vacation time, no strict 9 to 5 requirements, and a family forming benefit to support employees during their fertility, surrogacy, or adoption journeys.
Finances – flexible stock option programs (employees choose how they are compensated), paying top of the personal market rates, and an employee giving program matching charitable donations up to $20,000.
Convenience to Do Your Best Work – travel expenses, flexible work scheduling, and relocation benefits.
The company also develops its own "Netflix Culture," based on the core philosophy "people over process".
Netflix lists what they believe makes their company special, including how they:
Encourage independent decision-making by employees
Share information openly, broadly, and deliberately
Are extraordinarily candid with each other
Keep only our highly effective people
Avoid rules
LinkedIn
LinkedIn, the social media platform focusing on connecting professionals, has a proven successful employer value proposition.
The company ranks high in Glassdoor's Best Places to Work 2022 Employees' Choice Awards, with staff remarking on the companies:
Transparent leadership
Great benefits
Flexible workplace
And an emphasis on diversity and inclusion
The company's benefits focus on health, passion, family, must-haves, and extras that allow employees to personalize their rewards based on what matters most to them.
Their corporate culture looks to bring staff together with the core principles:
Transformation - Every one of us is here to transform ourselves, our company, and our world for the better.
Integrity - We don't believe the ends justify the means. Do the right thing.
Collaboration - We're capable of so much more when we work together.
Humor - Changing the world is hard work. It's important to have a few laughs along the way.
Results - We set clear goals. We measure our success. We fix what doesn't work. We deliver.
Too Good To Go
Too Good To Go is an app that allows users to purchase food surplus from restaurants and other outlets.
Too Good To Go's mission to prevent food waste is baked into the organization at every level and makes their employer value proposition unique.
The company targets employees that are passionate and problem-solvers with a passion for making an impact on society through fighting food waste.
They offer a range of benefits, including:
Flexible working
Team socials
Regular salary reviews
And Too Good To Go vouchers
Too Good To Go also takes an active interest in employees' learning and development with contributions towards books, training courses, conferences.
---
How to create your employer value proposition
EVPs are unique to each organization and the goals they are trying to achieve. However, when creating employer value propositions, the five key stages are:
Expectations
Research
Budgeting
Writing
Promotion
1. Set goals and expectations
When creating or revamping an employer value proposition, the first step is to set the expectations and define the goals you want to achieve.
For example, maybe you want to attract high-end applicants with a specific skill set, or the goal is to reduce the time and cost it takes to find suitable candidates.
Whatever your expectations are, it is vital you begin the process with a specific goal in mind to inform your decisions and establish what you are working towards.
2. Internal and external research
Before creating an EVP, you will need to spend significant time researching multiple areas, both internal and external:
Competitors - what are they able to offer employees?
The external target audience you hope to reach - what is your ideal candidate profile?
Existing workforce - listen to feedback from your employees concerning the benefits and rewards they value the most and what they feel is unique about working for the organization.
EVP approaches – is there a specific area you can excel in? (culture, employee benefits, career progression, performance-based financial reward, etc.)
Current perception - discover what candidates think about what your company currently offers.
Evaluate your findings and define the core components of your EVP.
Tip: It is vital your EVP also reflects the entire employee lifecycle and aligns with broader workforce planning strategies.
While it can be easy to focus on recruitment, the best employer value propositions focus on every stage of employment, from retention and motivation to progression and career development.
By ensuring the EVP aligns with broader workforce strategies, organizations can review and adjust organizational requirements, helping to build and maintain a workforce capable of delivering future goals.
Finally, creating a one-size-fits-all employer value proposition covering an entire workforce can be challenging. Often during research, it can be better to segment your target audiences such as experience level (interns/junior staff, management, etc.) and develop different EVPs accordingly.
3. Budgeting your employer value proposition
In an ideal world, you could offer the best EVP out there and ensure the top talent flocks to your company. However, you will have to pay for the success of an EVP in the real world.
This means finding the best EVP approach for your company that will allow you to hire a great workforce capable of executing your business model without going bankrupt.
Tip: Break down what your company can currently offer employees and where you rank regarding the talent pool you are targeting. Then, present these ideas along with the proposed budget and attainable benefits to management for approval.
It is easy to offer staff the world. But promising an employer value proposition you cannot deliver will backfire and cause reputation damage to your organization.
So instead, ensure you produce a credible and honest employer value proposition that reflects the true package you can offer employees.
4. Create and write your employer value proposition
A compelling employee value proposition is unique to your organization and relevant to the candidates you are looking to hire.
Focus on specific opportunities and benefits only your company can offer and always find ways to separate your company from the competition.
Employer value propositions are complex and communicated in detail on the company website and promotional material. But it is critical to be able to pick one or two core components to express in a strapline (a concise phrase that summarizes the proposition you offer) and a mission statement or manifesto (typically a paragraph in length).
5. Roll out and promote your employer value proposition
If you've taken the time to research, budget, and write an excellent EVP with approval from all the relevant stakeholders, don't just post it on your website and forget about it.
Give it the roll out it deserves and actively promote it to both your existing workforce and future candidates. This could be through company blogs, newsletters, social media, or many other outlets.
The critical part is enthusiastically promoting everything great about working for your company. If you don't seem to care about your employer value proposition, why should your existing and future employees care?
Tip: Remind employees that they can get bonuses or participate in a bonus program. Set a reminder a few months before if you have recurring bonuses and notify all eligible employees to take advantage of it. For example, a few of our employees had missed the annual sports bonus just because they had forgotten about it, and the financial deadline had passed.
When promoting your employer value proposition, wherever possible, use the mantra "show don't tell." Real-life examples of your EVP in action increase credibility and prove you aren't peddling empty corporate jargon to boost your employer brand.