How to Improve Online Learning Results Dramatically with Phenomenon-Based Learning
Digital Transformation of Learning is changing the way we learn and develop. Today, technology enables a variety of different approaches to teaching and learning. Phenomenon-based learning is one of the learning pedagogies that has recently raised a lot of discussion around the world. The results of this cutting-edge approach to education are seen as so promising that Finland is among the first countries to make phenomenon-based learning part of the 2016 national curriculum. However, what kinds of concrete results can this new approach promise?
Phenomenon-based learning engages learners with real phenomena
The idea behind phenomenon-based learning is to bring learning and teaching closer to actual practice, rather than focusing on single, disconnected subjects that do not relate to everyday life or to each other, at all. Phenomenon-based learning improves for example effectiveness, problem-solving skills, and interaction between learners. It makes learning more motivating and encourages learners to creative thinking. Case Riveria is a great example of enhancing learning results with phenomenon-based learning among Riveria students.
Studies in a new learning environment: Case Riveria.
In spring 2015 we delivered to Riveria Valamis, which is a Learning Experience Platform that supports phenomenon-based learning. In fall 2015, Valamis was officially launched for Riveria students, which enabled learning via phenomena instead of traditional online learning. In the renewed pedagogical model special attention was paid to technical functionalities as well as the content presentation and visual learning experience.
Four remarkable improvements in study results over one year
If we compare the study results of Riveria students from fall 2014 to fall 2015, the results are, so far, extremely positive and encouraging. After the adoption of phenomenon-based learning pedagogy, students have for example managed to complete their online studies much faster.
Below are the four most remarkable improvements in study results enabled by phenomenon-based learning, Valamis, and other pedagogical development work.
1. Higher pass-through rate in online courses
In fall 2014 a total of 49 percent of students successfully passed their online studies provided to Riveria students. In fall 2015, the corresponding number of passed online studies was 59 percent. In January 2016, the pass-through rate of online studies was already over 70 percent.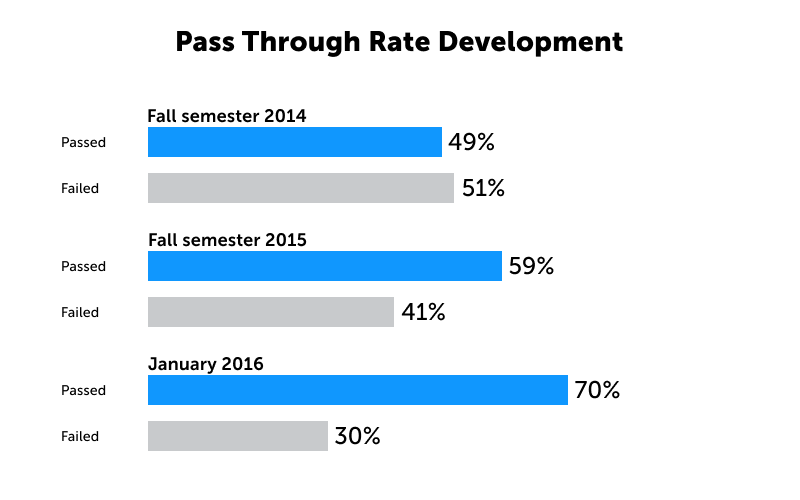 2. Gaining better grades
Compared to fall 2014, approximately 70 percent of students gained better grades in their studies during fall 2015. In fall 2014, a total of 81 percent of those who passed their courses gained level T1 (satisfactory) in their studies. In fall 2015, the increase in grades was notable as 78 percent of students gained either level H2 (good) or K3 (excellent).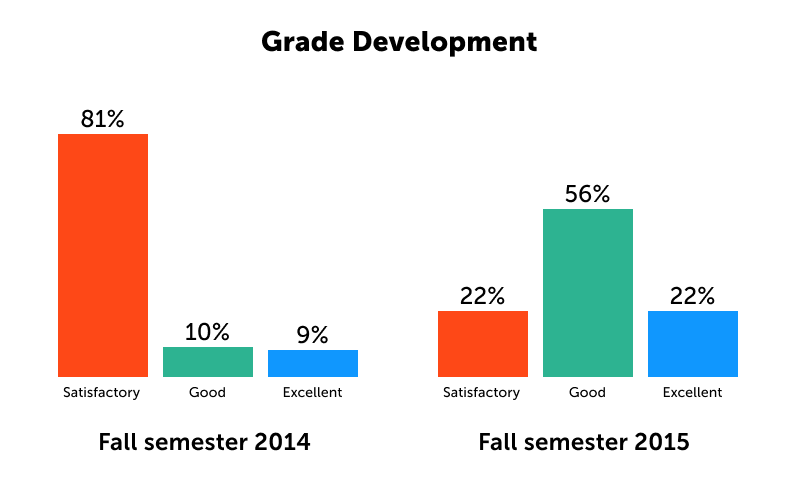 3. Improved essay answers
According to the feedback from teachers, the quality of essay answers has improved. Students are now able to connect the topics studied in real life, which also increases the role of personal reflection in their answers.

4. Easier follow-up of study progress
In the new learning environment, following learners' study progress is easier for online teachers, learners as well as for local instructors. The Learning Record Store (LRS) together with Experience API enable detailed follow-up of the study progress and with the help of a visual concept map teachers can easily locate those parts of the studies that appear to be the most challenging for learners. Also, in Valamis learners can follow their own study progress and give and receive feedback on their studies.
In summer 2015, Riveria's management made a strategic alignment to invest in the long-term development of online pedagogy, and the decisions made after that have resulted in the positive results presented above. Moreover, a strong focus on study guidance and development, as well as the possibility to give grades and feedback without delays in Valamis, may partially explain the positive results received in such a short period of time. Also, in the Riveria case, the phenomenon-based studies have been continuously developed based on the feedback received from the learners.