Digital Transformation of Learning
Discover:
Today, digital transformation is a major force that's changing industries and influencing the way corporations and institutions work. There is now a fine line between working and learning as the two have started to merge. The digital transformation of learning has augmented organizations' ability to evolve by providing just-in-time training solutions.
Learning is becoming more measurable, developable, and goal-oriented. Simultaneously, changes to work paradigms are making it (i.e. work) more virtual, spontaneous and hyper-connected. Decisions on when, how and where individuals learn can no longer be constrained to a specific time or place. Thus, the need to embrace digitization of learning has become a critical success factor for corporations.
What is the Digital Transformation of Learning?
Digital Transformation of Learning (DTL) is the innovative application of technologies that creates new paradigms for corporate training and learning in general. However, DTL goes way beyond just the digital "delivery" of training. It encompasses a fundamental mindset change for organization approach learning and training for the workforce of the future.
Digital Transformation (DX) refers to the innovative use of digital technologies to transform traditional ways of doing things. A great example of that might be the filing of taxes or submission of customs documentation for imports/exports. What used to be a largely paper-based process is now digitized through online workflow processes.
Why organizations should care about Digital Transformation of Learning?
Rapid changes in the nature of work and digitalization are creating challenges for organizations in several industries. Doing business is getting more globalized and intercontinental. New work paradigms, like telecommuting and remote working, have changed the traditional definition of "work".
According to Mark Dixon, Chief Executive at Switzerland-based serviced office provider IWG:
"The biggest driver is digital changing every industry in the world…"
And that, in turn, is transforming when, where and how employees work – which changed worker perception of their employer. Dixon believes that:
"If you offer workers the chance to work where they need to be, and not where they are told to go to, it completely transforms their view of the company, they are more productive…"
With this transformation of when, where and how people are willing to work, also comes a change in how they approach learning new skills to cope with the new work model. It is incumbent upon organizations to support their workforce in transitioning to the new learning paradigms. Not doing so can prove to be a huge competitive disadvantage.
But as digital transformation is changing work models, there's another change phenomenon that's poised to be equally, if not more, disruptive to current organizational training and learning perceptions.
Changing workforce demographics
There is a mass transformation happening in the workforce. Workers from the Baby Boomer generation (born between 1946 and 1964) will be exiting the workforce over the next few years, with their subsequent generation – Gen X'ers (1960s-1980s) – the following suit in the coming decade or two.
Over the next several years, the brunt of global workforces will comprise of Millennials (1980 to late 1990s) and Gen Z'eders (2000's onward).
These in-coming generations are very discerning about why they should join an organization's' workforce, what will motivate them to stay there, or what will drive them to quit.
According to David Wilson at Fosway Group – Europe's #1 HR analyst:
"Learning is also the #1 reason people want to join organization or leave it."
Disruptive workforce technologies
Global consulting company McKinsey predicts that yet another disruptive factor in global workforces will be automation and AI.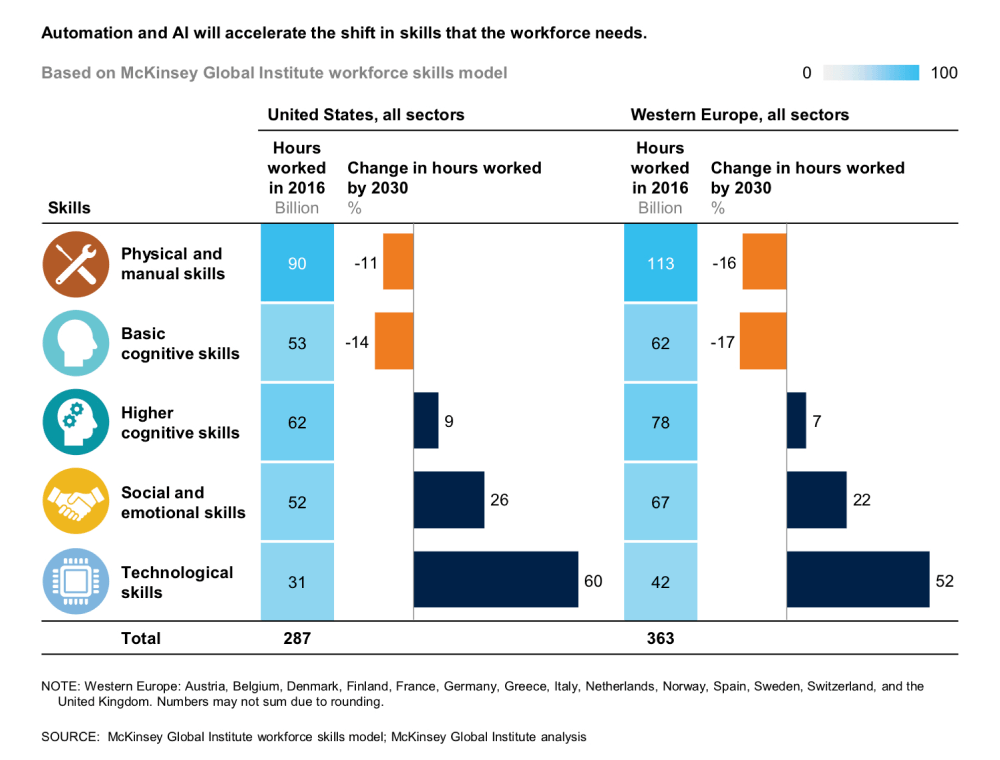 McKinsey's research indicates that by 2030, the skills needed in the workforce will be radically different from those valued today. Such a transformation must be met with appropriate training and learning strategies. And that, in turn, means organizations should care even more about the digital transformation of learning.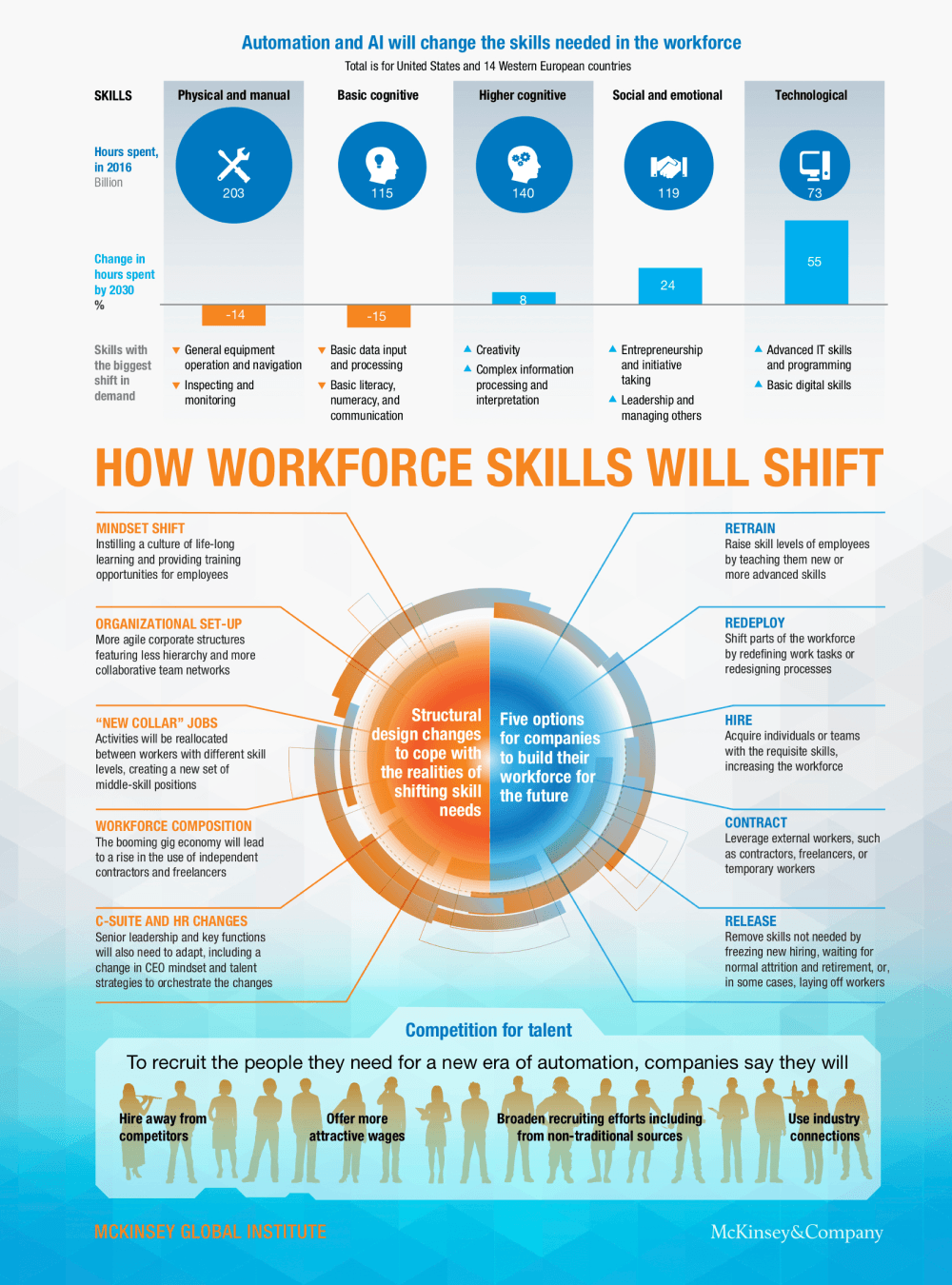 Three of the five McKinsey strategies, to mitigate organizational risks from changing workforce trends, include Retrain, Redeploy and Hire. And all three of them - including hiring individuals with "requisite skills" - will need elements of L&D. In a world that's significantly transformed by digitization, it may be prudent for organizations to support those strategies with appropriate digital learning strategies.
Recognize the risks
So, why should these transformations impact organizational views of learning?
Well, the eventual mass exodus of seasoned employees leaving the workforce will cause a shortage in corporate learning. As these workers exit out the door, they'll take with them decades of corporate knowledge and experience.
Sure, there may be handoff time planned prior to the veteran's retirement but that handoff does not fully replace the learning acquired over many decades. And because the values and work styles of the incoming generation are starkly different from the outgoing generation, simply relying on a standard handoff doesn't make for an effective learning strategy.
As one respondent to the aging American workforce (AWF) Leadership Pulse Survey noted:
"The 'greying' of the workforce has many seen and unseen consequences that will take a heavy toll on corporations and industries that fail to recognize and understand it. You can NOT replace a valuable senior employee with two June grads and call it even…There is knowledge and practicality that can ONLY be gained 'on-the-job' and that point cannot be over emphasized."
Addressing the risks
As a result, organizations are at risk of losing a large amount of hidden tacit corporate knowledge due to this impending "changing of the guard".
Organizations such as IBM are already realizing the importance of corporate learning and knowledge that walks out the door when employees quit. That's why IBM (also known as Big Blue) is using artificial intelligence to predict impending exits – with 95% certainty. According to IBM CEO Ginni Rometty:
"The best time to get an employee is before they go."
But even retaining a small fragment of the older (and more experienced and knowledgeable) workforce won't provide organizations an unlimited competitive advantage.
In a rapidly changing environment, it is essential to be able to analyze and develop continuous learning and organizational capabilities in a similar way to other business operations.
But because business cycles – from trough to peak and back down - are at their all-time shortest cycles, employees must learn faster than they did before. The digital age has set customer expectations higher than ever before. Employers must, therefore, train staff to respond to those expectations quickly. Otherwise, they risk losing clients.
If technology can be used to address the risks of pending employee exits, surely it can be brought to bear to address the challenges of corporate learning deficits.
Recognizing any potential shortage or risks within capabilities has become crucial for organizations. Unfortunately, this recognition isn't happening fast enough!
The shift from traditional eLearning to Continuous Learning Experience
A global survey by consulting company Deloitte underscored the value of learning in the corporate world.
While there is a growing recognition that dynamic, employee-centric, personalized learning and development (L&D) is the key to competitive advantage, according to a Deloitte survey:
"…organizations are still struggling with internally focused and outdated platforms and static learning approaches…"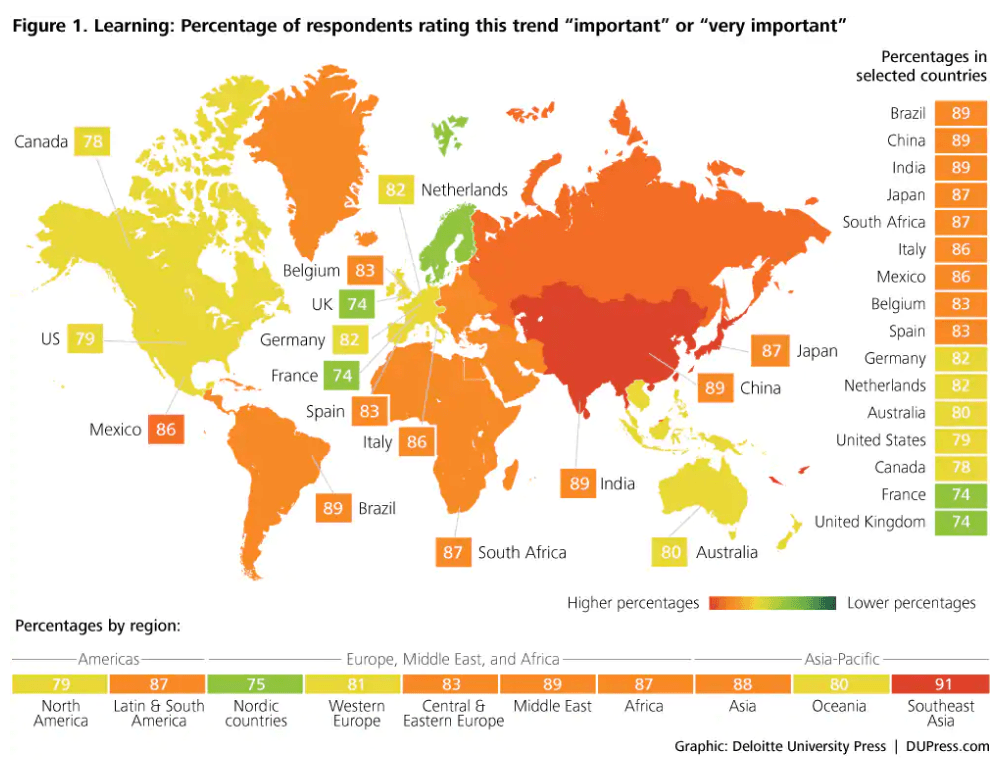 The survey concluded that 84% of executives polled viewed learning as important or very important for the organization. The Deloitte survey highlighted the fact that:
"Employees at all levels expect dynamic, self-directed, continuous learning opportunities from their employers."
Understanding how to maximize the effectiveness of employee development should be a common interest for all enterprises and organizations. Since learning and problem solving often happen in social and informal scenarios, it is important to have the tools and strategies to measure and analyze 100% of learning activities.
According to David Wilson, CEO of Fosway Group:
"Learning has never been about one approach or one system. There have always been a myriad of strategic solutions, approaches, contexts and types of content."
And creating the right strategy requires putting in place an appropriate continuous learning framework.
Building the Continuous Learning Framework
A key component of that framework is a transition plan from today's learning environment – focused largely on operational learning – to a more personalized, talent-focused learning approach for tomorrow. Organizations need to create continuous learning cycles with multiple touchpoints.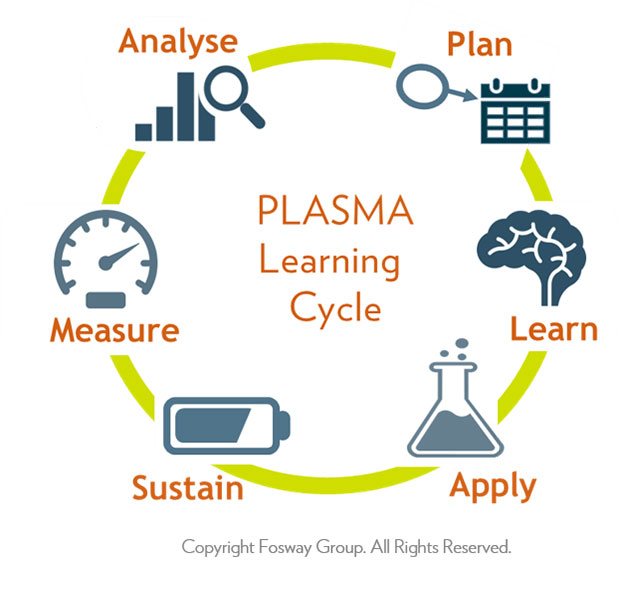 To create these continuous learning cycles, Fosway recommends their PLASMA cycle:
Plan: Where you map out what is required to get you where you need to go, and by when
Learn: Where you acquire performance-enhancing knowledge and practice the skills to address the plan
Apply: In the form of doing what you learned to improve performance
Sustain: By taking steps to consistently update and upgrade skills and learning needed to meet and exceed performance standards
Measure: Assessing your accomplishments (or lack thereof!) against the plan
Analyze: Taking it all in and strategizing for your next steps
It is important to understand that to support continuous learning, the PLASMA cycle, like ever-present lifeblood pulsing through our veins, is a constant and ongoing process. The stages in the cycle aren't necessarily time-bound. Each can take a few seconds or several days to complete. And it doesn't have to be a linear process either. For instance, one could start with the Measure phase, and start creating a Plan based on the outcomes of those measurements.
It all depends on the organization's overall strategy. Janne Hietala, Chief Commercial Officer at Valamis, put it very concisely when he commented:
"The right learning strategy can support organizations in achieving their strategic business goals. It also impacts company culture and acts as an enabler for people, particularly during times of significant change."
Evolving Platforms
Technological changes and innovation have transformed every facet of how we do business, and that includes how employers train their workforce and how employees learn.
This evolution can be traced from a structured and organization-focused model in the mid to late 1990s, to more personalized and individual-focused learning experiences in the 2020s.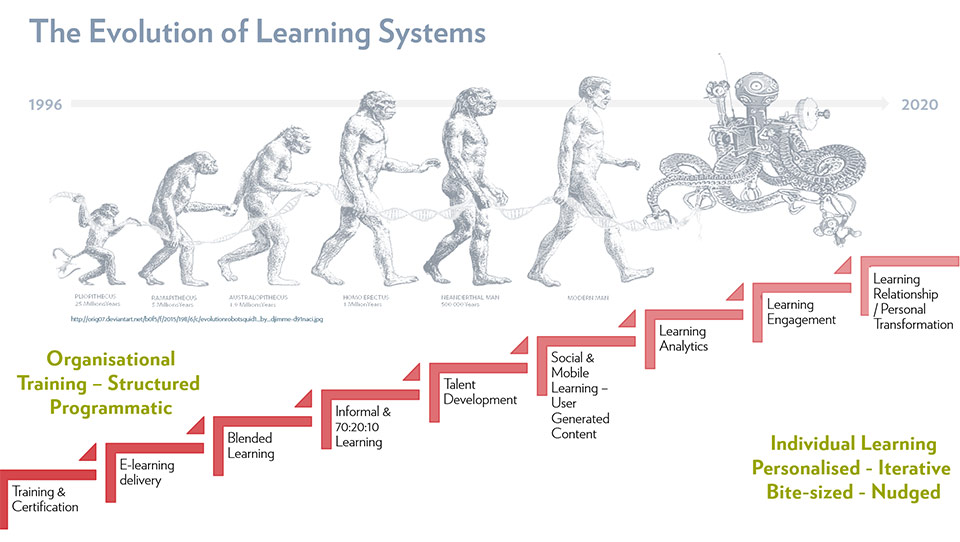 Corporations moved from being "data poor" in regards to their learning needs to becoming "data rich" on various facets of their L&D requirements.
The introduction of AI and Data Analytics into the continuous learning arena has now created a new frontier for L&D organizations to tap into – one that's poised to make them intelligence rich.
In response to the changing landscape, corporate L&D has evolved too – but not to the degree that might be considered transformational. Research conducted jointly by Fosway Group and 360Learning explicates this.
According to Camille Charaudeau, VP, Strategy at 360Learning, the joint research confirms that existing corporate L&D capabilities are falling short of learner expectations:
"…at the very time when learning has the opportunity to be a key differentiator to an organization's people and performance."
Combining the latest learning methods with the right technology provides organizations an exceptional opportunity to improve their strategic capabilities. With the right tools, organizations can prepare themselves for the future way of working.
David Wilson, CEO of Fosway Group believes that:
"It is the combination of the right systems in conjunction with this reimagined role for L&D going forwards that make for an exciting, energising and embedded role at the centre of any organisation in the digital age."
Meeting the challenges of Continuous Learning deficit
The digital transformation of corporate learning goes well beyond just digitizing training delivery. It requires a paradigm shift in corporate training and learning culture. There's a need to pair that mindset change with a more agile, personalized and contextually adept learning model.
Valamis' Janne Hietala said it best when he spoke at a Level39 event:
"Currently, corporate L&D does little to create effective learning and doesn't test if it was of actual value. Most learning is also not personalized or adapted to current skills on a one-to-one basis."
To meet the challenges of continuous learning, organizations need to embrace new tools and technologies that are not just scalable but sustainable.
Janne Hietala summed this up perfectly when he said:
"Learning is changing with the digital transformation. Next generation learning software is the way forward and L&D needs to be more strategic, operational and personal."