Employee Development
The Definitive Guide 2020
Contents:
As Human Resource (HR) specialists or Learning & Development (L&D) professionals, employees are one of the most precious "assets" that we deal with. Decisions about Interviewing, hiring and evaluating and assessing them are all in a day's work for most of us. One very crucial aspect of our jobs is focusing on ways to further develop these assets.
While it might seem like a rather straightforward challenge to address – just provide them some training! – reality is starkly different! How we develop the company's human assets – whether they are as good as or better than a competitors' - could very well determine the organization's competitiveness.
In this guide, we'll first explore what employee development means. But then, we'll also examine various other facets of it, including its benefits to the organization, and various methods and approaches to going about developing employees. We'll also go into detail on how HR professionals and L&D experts can create comprehensive, actionable employee development plans for their organizations.
What is employee development?
At a very high-level, employee development is a process of working with employees to improve, enhance, refine and hone existing skills, and to also develop newer ones, in support of the organization's mission and goals.
Inherent in this definition is the following finer points of interest:
Employee development isn't just about developing organizational L&D strategies
It's more than just implementing mandatory employee training
It goes way beyond meeting with employees annually to discuss their shortcomings and highlighting improvement needs
When done right, even though employee development requires investment (time, effort and financing) from the company, those investments will more than pay off over the longer-term.
For instance, sometimes letting go of an employee with limited skills, or developing those skills to the organization's standards, will both cost money. However, if those development efforts result in longer-term employee retention, that's a win-win situation for everyone concerned – thanks to a well-thought-out employee development strategy.
In the above scenario, what has employee development done?
It has avoided the costly (and sometimes protracted) process of hiring a replacement for an outgoing employee
It has preserved a lot of "sunk capital" already invested in that employee in terms of his/her organizational experience and expertise
It allows HR professionals and L&D experts to build upon (rather than build from scratch) organization culture (different from technical experience and expertise) already inculcated into that employee
All-in-all, further developing an employee results in getting human assets up and running, to organizational standards, much more efficiently than onboarding or indoctrination training of freshly hired employees would.
Benefits and importance of employee development
A carefully thought-out employee development strategy is important at multiple levels. And when well executed, it can accrue multiple benefits to all parties concerned, including employees, HR managers, and the broader organization.
Some of these benefits include:
1. Performance Improvement
For companies to remain competitive in their niche, the organization must continue to outperform the competition. Employee development can help the organization meet – and even exceed – performance expectations.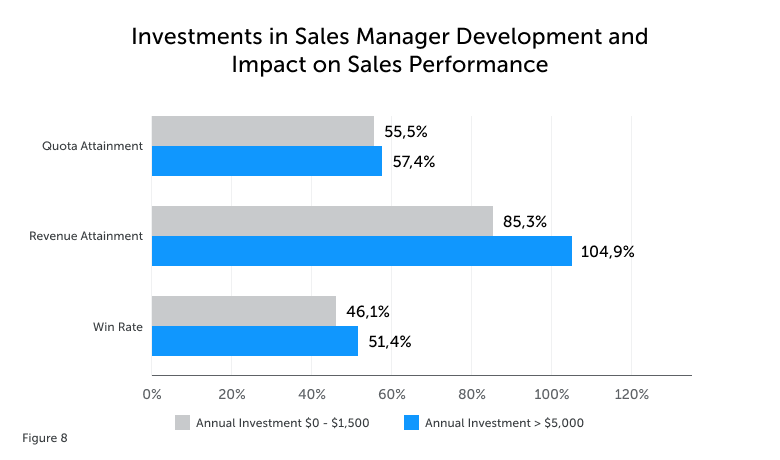 Source: 2017 CSO Insights - Sales Manager Enablement Report
In a 2017 report, focused on the impact that employee development has on performance, CSO Insights (The research division of Miller Helman Group) showed how sales manager development can drastically improve performance metrics such as quota attainment, revenue attainment and win rates. In some cases, investing a little as $500 in employee development yielded 46.1%-win rate improvement, while a $5,000 investment produced 51.4% more wins for the company.
2. Better handle unexpected situations
Today's business environment is all about constant change. And that change not only brings challenges (for the workforce), but if handled properly, it also opens previously unexpected opportunities. It is therefore vital for the workforce to be able to handle ever-evolving situations quickly and effectively.
"More than two-thirds of business leaders believe that if their company does not become significantly digitalized by 2020, it will no longer be competitive."
- Brian Kropp, group vice president of Gartner's HR practice. Source.
Adaptable employees are great at improvising solutions where employees with less-developed skills would simply accept the status quo. One of the benefits of having a well-defined employee development program is that it can equip employees to better handle the unexpected.
3. Learning culture inside an organization help attract new employees and improve loyalty
HR professionals can attest to the fact that it's not just enough to advertise job vacancies – it's equally important for prospective employees to want to apply for those posts. If the latter is absent, companies will not attract the best and the brightest to help them remain competitive.
According to a Whitepaper produced by ATD Research (sponsored by Paradigm Learning) - titled Building a Culture of Learning, The Foundation of a Successful Organization - companies are more competitive and agile, and their workforce more engaged when there's a culture of learning and knowledge-sharing across the organization.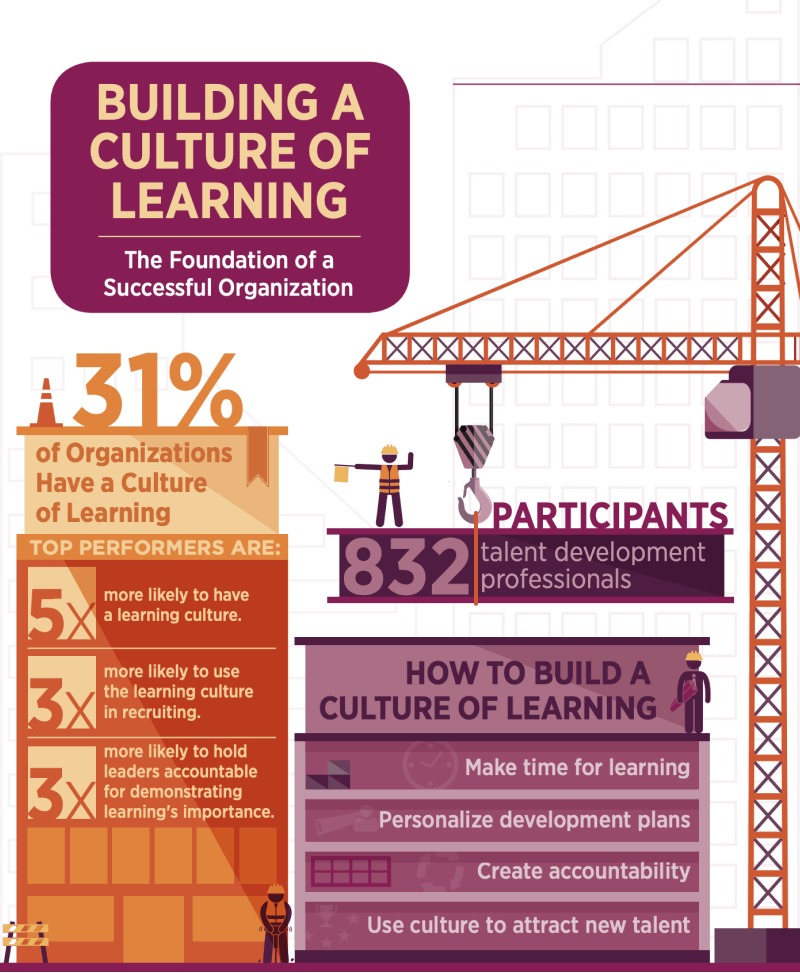 Helping develop employee talent, including through tactics such as personalized development plans, creates a highly attractive working environment. According to the study such organizations, that have a mature learning culture, are three-times more likely to use that fact as a recruitment tool. And implementing a robust employee development program is the first step in that direction.
4. Save money via retaining employees
Investing in in-house employee skills development programs is important to ensure that the workforce can do what they must do to "keep the ship afloat". However, employee development can also be a big money-saver in the longer-term.
"Global Talent Monitor's report on workforce activity in 2Q18 shows that the lack of future career development remains a key driver of employee attrition — cited by 40% of departing employees as a dissatisfying factor in their job."
- Gartner
AT&T discovered that only 50% of its global, 250,000-strong workforce had the adequate skills to take the company into the future. As a result, company management embarked upon a $1-billion retraining (the company calls it a "re-skilling") program. So, how did this in-house employee skills development program help the company save money? Math!
The company worked out that the median cost of replacing a worker who lacked the requisite skills was around 21% of that employee's salary. And as employee base pay increases, the cost of replacing them also rises – making retraining a much more cost-effective option. Not only do organizations not have to start from the ground up (as they would with fresh hires) – but as AT&T found, companies also preserve valuable institutional knowledge by retraining and retaining their current workforce.
"It's important for companies, at the senior level, to engage and retrain workers rather than constantly going to the street to hire,"
- Bill Blase, Senior EVP Of Human Resources, At&t.
5. Help grow potentially good employees into great leaders
If an organization is to grow, survive and thrive in the long-term, it needs to build a continuous stream of would-be-leaders. Unfortunately, leadership skills rarely come from attending Ivy League institutions or going on weekend leadership workouts – though that helps.
Organizations with strong leadership demonstrate a +37% rise in revenue per employee and +9% in gross profit margin, according to the report of Bersin by Deloitte - High-Impact Leadership. The New Leadership Maturity Model.
Financial Performance Indicators in Organizations with Low versus High Leadership Maturity*
| Financial Performance Indicator | Mean for Low Maturity Organizations (†) | Mean for High Maturity Organizations (‡) | Difference in Performance by Organizations with High Maturity versus Low Maturity |
| --- | --- | --- | --- |
| Revenue per Employee | 402.35 | 551.65 | +37% |
| Gross Profit Margin§ | 43% | 47% | +9% |
Source: Bersin by Deloitte, 2016.
* The effects are significant at a 95% confidence level. We controlled for organization size via regression analyses, both by employee number and revenue as control variables when appropriate.
† An organization is categorized as having "low maturity" if its composite score is within the bottom 50% among all organizations included in this study.
‡ An organization is categorized as having "high maturity" if its composite score is within the top 50% among all organizations included in this study.
§ To calculate the percentage difference, 47 percent minus 43 percent, divided by 43 percent, and multiplied by 100 equals 9.3 percent.
The American Management Association® outlines 10 leadership traits that would-be-leaders must possess. Typically, these traits, required to turn good employees into great leaders, come from within the organization. One benefit of instituting an in-house employee development program is that those leadership skills can be fine-tuned to the organizations' standards.
List of Top 10 Leadership Traits
Be Results Orientated
Be Customer Focused
Have a Vision
Be Strategically Focused
Effectively Get Work Done Through Others
Be Good at Dealing with Conflict
Ask Great Questions
Make High-Quality Decisions
Be a Trusted Leader
Be an Incredible Communicator
6. Improve employee engagement and motivation with good training
Having a workforce that's fully committed and engaged with the organization at every level is vital for success. Driving employee engagement, so that they remain motivated to the company's mission, is a function of various factors, such as a good working environment, employee recognition and appreciation, frequent communication and great training.
Studies by the Dale Carnegie institute found that a highly engaged workforce can lead to exceptional productivity improvements – as high as 202%. In fact, 85% of leaders believe that employee engagement is a strategic priority.
According to Gartner, globally, employee engagement is low and has been low for at least the last two decades. The latest Gartner Global Talent Monitor finds that only 32% of employees globally report high levels of intent to stay and only 14% report high levels of discretionary effort day to day.
A well-defined employee engagement program can balance all the critical employee motivational factors, including training and skills development, to deliver the benefits of a fully-motivated workforce across the company.
7. This gives the company flexibility to expand, innovate and compete more robustly within its niche
To be a true market leader in one's niche, it is important for companies to be nimble, flexible and accommodative to the needs of their customers and partners. Having a well-balanced workforce, that has the skills to innovate and compete for new business opportunities, is one benefit that robust employee development plans offer to organizations. Such programs not only develop existing skills but can be used to deliver longer-term competitiveness by instilling new skills that might be needed in the future.
In summary, therefore, a well-trained, dynamic and highly motivated workforce is crucial to any organization. And the best way to raise employees to such standards is to invest in their ongoing development. Such employees not only offer financial benefits to the organization, in terms of profitability and performance improvements, but they help with employee morale and retention.
Key areas of development for employee
All employees benefit from continued development - regardless of their specific skill set, specialty, or focus, their roles and responsibilities are constantly changing, and thus require the employee to evolve and adapt to these challenges. This guide will not cover any of the technical skills mainly because technical skills can contain many different sub-skills, and all of these sub-skills are equally important.
Organizations benefit just as much as the employee, if not more, from continued development. The need to be competitive with similar organizations and remain profitable is what drives companies to invest in their employees; because of the rapidly changing environment and technologies, the only way to achieve that is to constantly develop employees through Continuous Learning.
While some organizations want people with very basic skills and others are looking for people with lots of experience and expertise, both types of employees reap the rewards, thanks to a focus on much broader areas of development for employee growth.
Imagine a creative and flexible team with exceptional work ethic, capable of solving problems, communicative and able to prioritize and multi-task! Everyone wins – the employee AND the organization.
Here are seven key employee development areas that both employees and employers can focus on together:
1. Flexibility
Because today's business environment is so dynamic, employees must develop skills to help them adapt to ever-changing work-related situations. In a rapidly changing business world, employees that are highly flexible in their responses to changing situations are a prized asset.
Adaptability is the key to an employee's well-being and ability to thrive within the work environment. A static employee is one that will quickly become disengaged from excelling and moving forward, or worse, overwhelmed and overstressed, resulting in poor performance or an early evacuation/termination from the organization.
New environments, and learning to acclimatize to them effectively, requires a diverse set of tools from the developmental toolbox. One of the most crucial being knowledge management within the organization. This crucial component allows a breadth of shared and supportive information by leveraging this holistic process of capturing, distributing, and then effectively using an entire organization's collective knowledge. The employee (and employer) can thus rely on these resources to truly grow and develop.
The sub-skills of being Highly Flexible
Let's take a closer look at the building blocks of reaching the big-picture goal of being Highly Flexible, and then the steps to achieve it.
Ability to learn new skills:
Without innovation and growth, an organization will be left behind while the competition moves forward. Employees must have the ability to be trained and embrace the process of continuous learning. Make this endemic to the daily structure; allow and encourage education.
Adaptability:
New skills, knowledge, and understanding are great but moreover is the ability to take those learned skills and adapt them to the task at hand. Again, rely upon knowledge management to pull from that collective information. Maybe a single employee doesn't have the insight to apply what he or she knows to find a solution, but a multidisciplinary approach of bringing in more voices to the equation will often result in solutions.
Improvising:
Despite the best-laid plans, sometimes it takes good old fashioned improv to get the job done. Have a new technology, marketing idea, or design that the company hasn't tried before? Don't be afraid to encourage employees to "wing it" by applying what they know in a best-guess fashion at an improvised solution.
Ability to respond to new problems or issues:
This is where most companies will use their Flexibility power in day to day operations. New problems will always arise, but instead of letting the gears come to a screeching halt, flexible employees will find a solution – quickly and efficiently without missing a beat.
Ways to train a Highly Flexible workforce
Here are a few real-world ways to refine some areas of development for employee flexibility:
Cross-training: By providing employees with cross-team training, everyone in the organization will learn to appreciate the challenges that other teams face when performing their roles. As an employee, this ability, to understand and deal with a variety of challenges in the workplace, breeds flexibility.
Change role/department/project/new responsibilities for a short period of time. Giving new responsibilities can help with understanding the bigger picture and of course develop new skills. For example, a team lead position can help an employee understand the workflow and management side of a project - what has to come together from all the participating team members to make it successful. Of course, employees need to agree to such actions.
Business trips to other offices, branches or shops. This can open up a whole new way of doing things that may have not been considered. Additionally, trips to the customer's side of the table are often the best way to get a grasp on their problems/needs and processes that can be improved.
Involve employees in making decisions. When people get to participate in decision making, they feel more committed to achieving the goals and they are also more motivated to reach the new goals. It also helps people to understand different perspectives and the reasons behind impactful decisions.
Explaining and understanding the big picture: Instead of focusing on task-specific imperatives, managers, supervisors, and employees can work together to focus on what the greater impact of those individual tasks are on the bigger goal. This helps promote greater flexibility amongst management and work teams.
Supervisors and managers can encourage workers to try something different that will take them out of their comfort zone.
If employees are eager to work on new tasks, assigning stretch goals is yet another way to help them add new skills to their current inventory of talents.
Support networks: Often, the root cause of inflexibility in the workplace comes from a sense of feeling overwhelmed in a role. If employees start networking with peers and other colleagues, and employers offer support (e.g. Designating "go-to" individuals or Mentors), the workplace can be a very flexible and adaptable place.
Offering feedback, and accepting it positively, is often tough, but it can lead to positive skills and development outcomes. Delivering criticism in a positive – often private – way allows such critique to be construed less as "reprimand" and more as advice. Accepting criticism without fear that "management is out to get you!" can turn critique into a learning point. Again, present it as "feedback" and not criticism. Also, encourage the two-way street of both asking for and giving feedback.
Formal studying: Courses, Certificates, Web course, Books, magazines, Seminars. Support studying outside of work hours, e.g it can be reimbursement for paid courses, or fully paid courses by the organization if they fit the development plan.
Learning from peers and knowledge sharing. This can even take the form of tutoring, social learning, and sharing sessions.
A common goal: In the same spirit of support networks, the company should encourage teams to work together to reach the common goal as opposed to encouraging teams to compete with each other to reach their specific objectives.
Keep things light while reinforcing that team mentality with fun team building games.
2. Communication skills
An organization is nothing without clear and concise communication. In its absence, employees are working and reworking problems, in a buddle, with NO shared knowledge, insights, or diversity. The key is creating an open format, encouraged dialogue of all team members.
Here are the skills that we'll group under Communication, and the various ways to develop each.
Teamwork
Promote group efforts and shared project responsibilities, encourage group outings, team building activities and shared goals. Always think and speak in terms of how "we" can accomplish things instead of how "I" can contribute x,y,z to a particular project.
Collaboration
We all have different ideas, skills, and knowledge. Rely on this and facilitate it happening by encouraging a completely multidisciplinary approach.
Interpersonal skills
This encompasses a broad range of being a "good listener" and communicator. From taking responsibility to being a dependable leader, generally, focus on what it takes to be motivating to other team members and hearing what they have to say and can contribute.
Empathy
Don't be too quick to criticize without putting yourself in your co-worker's shoes. Consider the "why" someone may share a different opinion or is struggling before providing input.
Listening skills
Actually LISTEN. What is he/she actually trying to communicate? Be interested, and be engaged; don't simply wait for your turn to speak.
Public speaking
Delivering what you have to say is much harder in front of an audience; mastering this and then moving to small groups or one-on-one will make you that much better at communicating.
Making presentations
Like public speaking, it is a good way to elevate your communication talents.
Relationship building
Have you ever met a coworker or leader that you just jive with? Consider what makes this work, and see if you can pull key interactions or personality traits from this interaction into all your relationships. If not, don't give up; some working relationships take time to build that rapport.
Ways to help in developing communication skills:
Frequent meetings:
Managers should meet frequently with their chain-of-command employees. Additionally, as employees, it helps to hold regular touch-points with peers and colleagues to keep information, thoughts and an exchange of ideas flowing freely across the organization.
Formal training:
Some soft skills, such as listening and picking up visual cues and interpreting body language, need to be developed through formal training. Organizations must invest in helping employees to communicate across company hierarchy – with peers, supervisors, senior management and executives. Also, make sure you don't forget various types of communication skills – written, oral, in-person and remote, including digital and traditional.
Assigning group projects:
Working on group projects can also help bring out the best amongst individuals and teams. Volunteering to work on cross-team projects helps communication, promotes team spirit and offers a change to hone interpersonal skills.
Team-building games.
Mentoring.
Self-reflection and observing others.
See how you act in different social situations. What situations make you feel uncomfortable or unable to act? What could you do to improve your communication etc? Also, be cognizant of how other people act in different situations, maybe you can find out good tips on how to act (or what not to do) in certain situations.
Cross-functional workshops.
Engage in different discussions and situations. Talk with people from other cultures, people with different personalities, people with different backgrounds, people in different positions in the company, etc. Learn from them and try to understand their point of view.
Feedback sessions.
Bonus: Conflict Resolution, Tactfulness, Work ethic
When working in a team, one needs to be diplomatic and tactful, to not "ruffle any feathers". At the same time, doing what's morally right, and taking on ethical positions in the workplace can generate conflict. It takes skill to navigate these three – sometimes conflicting – domains.
Here's how employers and employees can work together on developing these skills for the good of individuals and the organization as a whole:
Training:
Employers can nominate employees, especially those who are being groomed for leadership roles, for conflict resolution and arbitration training. Veteran employees can also coach less-senior staff on how to de-escalate potentially volatile situations. Practicing listening skills, learning how to communicate during stressful situations, and mastering the art of being polite but assertive can also help diplomatically resolve workplace conflicts.
Self-assessment:
When faced with potential conflict in the workplace, doing a quiet self-assessment of the situation can often produce tactful solutions to dealing with it. Instead of confronting head-on the source of the irritation, teaching employees to choose one-on-one discussions or 3rd-party mediation between colleagues is also great employee development areas examples.
Professionalism:
Punctuality, self-discipline, fairness, understanding, tolerance, and empathy are all hallmarks of good work ethics. They are also the traits of a good professional. While these traits are inherent to one's character, many of them can be developed through formal training. Volunteering to help colleagues that are struggling with work challenges, or taking time to train newcomers to the organization are great ways to build all these skills. Employees must practice them every chance they get – even when no one else is around to "police" them. Employers can aid good work ethics by creating a safe, fair and healthy working environment for all employees.
Although at first blush, these may seem like disparate employee development areas examples, they are in fact highly correlated. At the end of the day, if employers and employees work jointly to develop these skills, everyone will learn to "get along better" for the greater good of the self and the organization.
Additionally, as technology is improving, the manual, routine stuff will become more and more automated. People will have to deal with more complex stuff that requires teamwork, social skills and communication, making these skills even more valuable in all business sectors.
3. Leadership Skills
Leadership styles are diverse but to lead effectively there a few key skills that are common amongst good leaders. Leadership skills are highly valued by employers; effective leaders can motivate and help others succeed within an organization.
A positive leader can lift a company above the competition, while a negative leader can make the work environment a dreadful, unmotivated and withering atmosphere. Here are a few universal traits that you can likely recognize in the successful leaders within your organization.
Management skills
This goes beyond ordering people around. Strong management entails understanding those you are managing, motivating them to perform their best and sound logistics to make things run as smoothly as possible.
Self-confidence
You cannot inspire confidence in others if you do not exude confidence in yourself. It shows – be confident without being cocky.
Delegation
One of the initial stumbling blocks of inexperienced leaders is trying to do everything themselves. Realize that great leaders delegate without coming off as bossy or superior.
Motivation
This is one of those skills that are hard to teach, but easy to recognize. Some people have a way of inspiring – take note of what they're saying and how they're delivering it.
Decision making
Don't be the indecisive squirrel in the road; it rarely turns out well. Make sound and confident decisions based on the best information you have available.
Team management
Whether the team is four or twenty-four strong, it is imperative that a leader is there to ensure constant forward motion amongst all team members. This takes balancing time, personalities, responsibilities, and objectives.
Team leadership
Think of team leadership as a one-up on team management. People work for a manager but follow a leader.
Identifying problems
Hopefully, this occurs before actual problems arise. Experienced leaders can preemptively squash difficulties before they arise, and moreover, can differentiate between a problem and a typical bump in the road.
Developing strategies
Otherwise, it's a guessing game. Strong strategies drive workflow in the most efficient manner.
Developmental planning
This takes the strategies and places with their goals and a timeframe. Measurability is an important aspect of developmental planning.
Assessment and evaluation
This is a broad skill that can be applied to all areas of leadership, from processes to personnel.
Problem-solving
After identifying, rectify problems promptly. Leaders can not only rely on what has worked in the past but also have the innovation to handle problems that haven't been seen before.
Strategic thinking
Thinking several moves in advance and playing out the "what if's" in a game plan can lay the groundwork for a team's success.
One can classify all these soft skills under a single banner: The art of good leadership!
Ideas on how to develop leadership skills:
Mentoring:
To grow as a leader, it's best to be led by another one.
Formal training:
Employers can invest in leadership, people management, critical thinking and public speaking courses for their employees.
Volunteering:
Employees can volunteer their expertise – for instance taking company trainees under their wings, or speaking to a batch of novice workers at a convention, to hone some of these skills.
Task forces:
Forming task forces, to deal with unique organizational challenges, is a great practice run for future leaders. It can also help employees hone their decision-making and problem-solving skills.
Participation in working groups and committees:
Willing participation in working groups and committees is also a good way to polish leadership skills. It also helps employees build self-confidence in their abilities as individual contributors to such workgroups.
Change the way the responsibility is taken:
e.g. give a pilot project, with permission to fail, so they won't be afraid and will act. Often, the fear of failure is the most limiting factor in innovation and creativity. There may be a fearful genius waiting in the wings that just needs a safe atmosphere to let their talents shine – give them that chance.
4. Organizational Skills
Balancing a multitude of tasks effectively and efficiently requires a specific set of skills:
Prioritization
The answer isn't always what's most important now, but more so, what needs to be completed first to allow for all the other big-picture pieces to fall into place.
Time management
this is part prioritization and part efficiency. By developing good habits and dialing in the daily workflow one can capitalize on all the available hours in a day.
Multi-tasking
if you've seen a master multi-tasker it's incredible! They're a blur of activity, accomplishing several things at once. Just make sure to find a balance; often there's a negative return on investment when we try to do too many things at once.
Managing appointments
no one wins when meetings are missed or appointments are routinely bumped. Allot enough time for each appointment and add a little buffer time if you're continually running late.
Productivity
this isn't just working, it's getting things done. If it's taking you twice as long to do something as a colleague, reevaluate and get input on what's making them so much more efficient.
Scheduling
the key here is details. Stick to a repeatable format that answers all the questions: who, when, where and what. Be particularly mindful of travel time and conflicts.
Meeting Deadlines
lose the notion that a deadline is just a suggestion. Drive hard to meet all deadlines; if a deadline is missed, evaluate why. Was the timeframe unrealistic? Not enough manpower? Poor planning?
These all share ONE goal - making the best use of your time!
All these employee development areas fall under the realm of work management.
Ways how employers and employees can work together to work smart:
Unambiguous direction:
Often, employees waste a lot of time because they don't receive provided clear direction on what needs to be done. If managers take time to work closely with their team, setting out clear expectations of outcomes, employees can better prioritize and manage tasks.
Delegation:
As employees, there's only so much we can do during the work-day. However, one way to multi-task and get more done in the day is to learn to delegate. Learning how to pass on co-responsibility to another colleague – perhaps someone better skilled at doing the task at hand – is a great way to jointly accomplish more than you can on your own.
Collaboration:
Encouraging employees to work on joint projects and collaborate on common objectives is another great way to hone their multi-tasking skills. If the task to be accomplished is a multi-disciplined one, members of a small team will need to build their skills to take on more than one task simultaneously to complete the project successfully.
Tracking and analyzing time:
As employees, a great strategy to manage where time is spent is to track it – using logs or time-tracking apps – and then analyzing that data. Once you get a sense of where you spend most of your time, and what "value" you are creating for that time, it'll be easier for you to re-prioritize your day and better manage your work schedule.
Training:
Employers can also support their teams to develop these skills by sponsoring them for formal time management and work prioritization courses.
Technology:
Employers should support employee time-management efforts by equipping them with reasonable technology to help them work smart – not hard! For instance, encouraging the use of work-management and project planning tools, or giving them access to remote communication software so they save time on commuting from/to work engagements.
5. Creativity Skills
Innovation is often the result of inspiring greater creativity. By developing a culture in which employees are encouraged to share ideas, a creative and innovative workplace can be fostered.
Consider implementing these practices to build on creativity:
Ensure employees value the importance of creativity, much like any other skill, by setting time aside to formulate ideas.
Try suggestion boxes, group sharing and team outings focused on new ideas.
Task/job rotations (covered below) are a great way for employees to consider how one solution can be applied differently in their own field. Gaining new perspectives can be the perfect starting block for new processes.
Be supportive of all ideas, even if they're not initially "winners", being enthusiastic grows the process for better ides in the future. Likewise, accept that new ideas come with a certain amount of risk, so don't punish the ideas that fail; do, however, reward ideas that are impactful.
Use these techniques with the goal of developing the following skillset. In doing so, a creative work environment can thrive and produce truly impressive results:
Creative thinking:
All solutions are not on Google. Stepping outside of what's already on paper is the best way to explore innovation.
Brainstorming:
If it takes a dozen ideas to land on one good one, that's fine!
Conceptualization:
Pull observations, experiences, and data to form a working understanding of hard to explain ideas.
Critical thinking:
To excel at critical thinking requires complete objectivity. Evaluate an issue based on data in order to form a judgment.
Curiosity:
When we're curious we investigate, usually with passion and personal interest involved. Asking "why" often leads to a deeper understanding of an issue.
Foresight:
Predicting what's down the road has its obvious benefits. Foresight can be gained by both experience in a specific field or looking at the trajectory of similar projects.
Identifying patterns:
By keying in on the repetitiveness of processes or outcomes one can gain the foresight mentioned above.
Imaginative:
Most inventiveness is a product of imagination. Try exercising your imaginative side by thinking with the objective of being completely original, purposefully putting aside past research and ideas on a topic.
Innovative:
Use what's pre-established to develop new methods or advancements, e.g. what else can this technology be used for?
Bonus. Stress Management
A critical skill that companies can foster is stress management.
The benefits of creating a less stressful work environment are universally beneficial to both the employer and employee. Here are a few ways to lower stress in the workplace:
Set clearer goals. Team members are much more comfortable with well-defined goals, knowing exactly what they need to focus on, why, and when it's due.
Encourage movement and plan it into the workday; even consider on-premises fitness rooms. Whether it's exercise at the desk or a walk after lunch, support employees getting up and moving around. Breaks are okay during the day!
Teach at-desk/in-cubicle stress-relieving exercises – like relaxation techniques, stretching, "standing Yoga" to help make the workday less stressful.
Support employee efforts at stress management by providing access to stress counseling. As employees use these services, they'll develop the skills to better manage stressful situations on an ongoing basis.
Emphasize and train for time management. Have employees take a moment at the beginning of each day to plan and prioritize.
Offer a more flexible work environment. One of the greatest stressors most employees face is the balancing of family and home life with work. If the work is being completed successfully and on time, don't place such an emphasis on the traditional nine to five work schedule. Things come up, allow the employee to handle them without adding additional stress.
Employees development methods
Employees and employers have various ways to go about putting employee skills development into practice. The overreaching goal is to strengthen employee's broad range of skills, whether it be flexibility, organizational, creativity, communication or leadership. However, as we've stated earlier, you can only achieve success through cooperation between management and staff. In the segment of this guide below, we'll describe different employee development methods and their benefits, and we'll evaluate which development method works best for which skills areas.
Some of the most effective employee development methods include:
1. Training
This method includes developing employee skills through a combination of lectures, hands-on-exercises, videos, podcasts, simulations, and individual/group-based assignments. It includes both formal (classroom-based, instructor-led, eLearning courses) and informal (watching YouTube videos, reviewing educational blogs and posts on peer-group forums like LinkedIn or chat rooms, self-study) approaches to skills development.
Each option will be specific to an organization's needs, and the subject at hand. For example, a hands-on, instructor-led training may be the best option to teach a detailed process or trade e.g. a complex manufacturing process or preparing a signature dish for a restaurant. These extremely specific tasks cannot be taught via YouTube or research, which may suffice for more general subjects such as building codes or IT support issues.
Employees must actively undergo training (either paid for by themselves or by the organization) throughout their career to enhance skills they (in consultation with their managers/supervisors) deem necessary for the role they are performing. However, organizations must also actively support employee skills development for future roles/responsibilities that the company hopes to entrust these employees.
IDEAL FOR:
Training is an ideal employee development method when it comes to addressing both Hard (technical) and Soft (communications, conflict resolution, time management) skills.
2. Task/job rotations
Employees could volunteer to rotate roles with colleagues on a shift/team, to put some of those new skills into practice. Employers can also encourage job sharing as a method for employees, who have indicated their desire to get practical experience, to develop some additional skills. The goal is to rotate the tasks and roles to learn something new or have a chance to practice what has been learned.
Stretch assignments: This method involves management working with employees to understand where they wish to improve, and then finding assignments for employees to develop those skills. Typically, the assignments will push the boundaries of an employee's existing role/responsibility, to expand its scope to include additional skills needing development.
Stretch assignments could either be horizontal (tasking an employee to use additional skills to do more work similar to – though not the same - their existing role), or vertical (extending the scope of an employee's role to cover down-stream or up-stream responsibilities).
IDEAL FOR:
This employee development method is the best way to train flexibility and adaptability.
It is also great for extending an employee's technical skills but, depending on the type of stretch goals set, could aid in developing other ancillary skills such as Time Management, Stress Management, and Conflict Resolution Skills.
Everything depends on the role/job for how applicable this is. For example, if you ask a developer to talk/negotiate with clients, he probably won't be as great as the manager, but at least he'll gain the project management skill to some extent.
3. Coaching
When talking about various employee development methods and their benefits, we can't stress the importance of helping employees polish their skills through coaching.
This method of skills development typically involves senior staffers working one-on-one with less experienced individuals. This can fast-track an employee's understanding of a variety of topics, but be mindful that this approach can be both times consuming (taking up the assets of seasoned/valuable staff) and result in a clone-like knowledge of the subject – as opposed to an employee learning the subject his/her way or through input from a broad range of coworkers and mentors.
IDEAL FOR:
Depending on the emphasis of the coaching involved, this can be a fast-track way to learning very specific leadership and team management skills. It can also be focused on particular organizational skills.
Coaching is usually a very hands-on approach to skills development and ideal for developing skills like Technical and Analytical skills. Through employer-sponsored coaching camps, employees could also pick up invaluable Interpersonal and Conflict Resolution skills.
4. Mentoring
This method involves senior leaders/management taking junior staff under their wing to help develop important skills that the mentored individual might lack.
The more formal mentoring programs are typically used for senior executive/leadership roles, while less formal structures might be implemented amongst junior management as well. As with Coaching, be mindful of the time asset, and the even narrower funnel of a one-on-one teaching model.
IDEAL FOR:
Because it requires senior leadership commitment, Mentoring is typically used to develop high-level skills such as Leadership, Strategic Management, Communication, Critical Thinking, and Long-term Vision articulation.
Mentoring isn't very effective in developing skills required at lower levels of the organizational structure – such as Shop Floor Assistant or Accounting Supervisor. Coaching might be a better method for skills development at those levels.
More experienced employees can mentor less experienced, younger employees and isn't necessarily restricted to management. It can be done at any professional level and is ideal for communication skills, leadership skills, and organizational skills. It can also be applied to teaching something new or even teaching creativity.
5. Workshops/Committees/Working-Groups:
These are methods that give employees an opportunity to interact with peers/colleagues from within and external to the organization. The benefit here is rich access to similar colleagues (internal) and dissimilar colleagues (external). This broad range of input and knowledge can be useful in gaining new insights, troubleshooting, and opening up communication on best practices. This is ideal for communication skills and teamwork but can also be applied to anything else.
IDEAL FOR:
Workshops are great for developing a range of soft skills, such as Communications, Teamwork, Presentation, Public Speaking, Networking, and Leadership skills. It can also be used to polish Research and Analytical skills.
6. Simulations:
These are becoming very popular due to both how engaging and effective they have become.
In its simplest form, a simulation could be role-playing a customer service interaction, for example, learning how to diffuse an irate and confrontational client in person, or responding to an emergency situation such as mock first aid scenarios.
At its highest level, simulations can involve completely virtual worlds, such as fire rescue or flight training where employees can learn the skills required in a nonconsequential setting.
This is extremely useful in taking conceptual or textbook knowledge and applying it to the real world which gives the employee both the know-how as well as the exposure and comfortability in handling such tasks.
IDEAL FOR:
Works for all types of skills. Group simulations can even be utilized to teach social skills.
7. Conferences:
Much like workshops and committees, conferences are a useful way to network and gain exposure to a vast knowledge base of both interdisciplinary and outside industries.
Specific sessions are generally available to increase awareness and training of relevant topics, often in a pick and choose a format that can be of interest/usefulness to particular subgroups within an organization.
IDEAL FOR:
Dependent upon the conference's applicability and specificity, they work for all types of skills, including hard and soft skills and personal development. It can additionally assist with communication skills.
8. On-the-job development:
Employees who have attended some basic training on a technical skill (whether it be in operating a new machine, or learning new financial analysis methods) will often find on-the-job development a great method to hone those skills. This is basically learning by doing, which is typically done right after the training.
The main goal of on-the-job development is to provide everything to the employee for self-study while at work. Employees learn how to use something or apply the methods as they complete the assigned tasks. This is a very popular way to develop employees as companies typically don't have the time to train every single employee on every single skill especially if that skill does not require specific/advanced knowledge.
IDEAL FOR:
While on-job exposure is typically good for work-specific skills development, this method can also develop a broad variety of employee skills, including hard and soft skills.
These range from technical skills, leadership development, and analytical expertise as well as organizational skills such as time management, multi-tasking, and prioritization.
9. Self-study:
This can be accomplished through different methods: reading/researching, taking classes, etc. outside of work hours.
The subject doesn't always relate to the skills that an organization needs, but rather something new that they believe will improve their performance. While the time invested for self-study isn't directly compensated, if an employee purchased a course that will improve his performance, the company should compensate him by paying for that course.
The benefit is that the employee decides what's of interest, and pursues it independently. Conversely, it is often difficult to motivate employees to spend off-work time devoted to work-related endeavors.
IDEAL FOR:
This is a great means to develop creativity and curiosity, as employees will naturally choose topics of interest/passion. Depending on the material studied, however, it could be applicable to all skills.
Bonus:
10. 360-degree performance feedback:
This method involves getting feedback about an employee, from a cross-section of peers, subordinates, supervisors and external vendors, and then identifying skills development opportunities based on those inputs. For more information on this type of feedback consider this article: Performance Appraisal.
IDEAL FOR:
Because of the fairly broad scope of feedback, this method relies upon, it is typically good for identifying skills gaps in people-facing roles, including Conflict Resolution, Communications, Tactfulness, and Interpersonal skills.
11. Career planning:
While this method is usually viewed as something that is "employer-driven" – where HR decides which employee should fill what role – it shouldn't be so! Employees can also suggest future/alternative career paths for themselves, to their supervisors/managers, and initiate career planning discussions.
Based on a business goals review and organizational workforce assessment (see Part 5.1- The STEP Employee development plan – later in this guide for more on this), employers can identify existing skills that need to be enhanced across the organization, or prospective new skills that the business must acquire.
Through discussions with management, individual employees should then analyze their own strengths and shortcomings, and volunteer to take on some of those roles. Individual career plans can then be mapped out, in consultation with HR, with specific skills development milestones identified for each role.
IDEAL FOR:
When used in conjunction with other employee development methods, Career Planning can help identify and develop a broad spectrum of cross-organizational employee skills.
Typically, Career Planning sessions identify soft skills like Communications, Interpersonal Skills, and Time Management for development in leadership roles, while hard/technical skills manifest themselves for development in front-line rank and file roles.
Creating an employee development plan
What we've discussed thus far has set the stage for creating an employee development plan that truly works for your organization. It's now time to put all the pieces together and come up with actionable steps to develop your workforce.
Typically, you would go online and download an employee development plan template. The challenge, however, is that most such templates come with too many assumptions. As a result, they may not fit the developmental needs of your organization.
Understand that an effective development plan should be created for specific roles, departments, or even for a specific person - NOT for the whole organization. Otherwise, the plan will simply be too generalized and unfocused; neither of which will truly help the employee.
The 7-step Employee development plan
Our approach to creating customized employee development plans is more of a hands-on approach in which we assess the actual employee or department and formulate a plan specific to their individual goals.
It is based on a tried and tested, a commonsense methodology that delivers tangible results. Our strategy comes without any preconceived notions or assumptions.
By the time you've implemented all the steps recommended here, you'll have developed an employee development plan that you can then use as a template across your organization.
Here's our 7-step plan with actionable tips:
1. Assessing Business Goals
1) Assessing the Company's Strategy and Business Goals.
All developmental actions have to be aligned with the Company's strategy. It is the foundation of the plan, so make sure the objective is clear. If needed consult with upper management or leadership.
2) Create a macro-level assessment of your business.
Points to consider include:
Where does the business want to be in the next 2, 4, 6 years?
Where do you see opportunities for improving competitiveness?
Whether there are business expansion plans (new markets, additional factories/plants/distribution centers)
What newer technologies are out there that could support your business goals?
Formulate other questions specific to your organization and then sit down, again with management if needed, and answer these questions before developing your plan.
3) Review what's working and what's not working in the organization. This can be accomplished through interviews, surveys, or past feedback.
4) Improve. Finally, based on everything we've done, make a list of all the competencies and skills needed or a list of improvements that need to be made in order for the company to keep developing in the right direction.
2. Communicating with employees
Employees are key to "employee" development. It's vital, therefore, that you communicate with them about your business goals and share with them the results of your workforce assessment. Here are some tips to help you:
If employees' opinion is valued, their level of interest, loyalty to the employer, and production level increases.
Communicate frequently: If your assessment and reviews span an extended period – say 2 or 4 months – hold several communication events to keep employees "plugged in".
Communicate from the top: Since any employee development initiative will likely involve some changes to "business as usual" for employees, it's always nice to have high-level executives share those plans with employees.
Use all tools available: Create a broad-based communication plan, including emails, social media, internal newsletters, company bulletin boards.
In-person is better than emails: Where possible, hold at least some in-person sessions to communicate with employees. It makes it seem more personal and "warm".
Plan for one-on-one communication: While broad-stroke communications can take place in group settings, one-on-one sessions are best to discuss personal development plans for each employee.
Don't delay communicating such news: The longer you put it off, inadvertently, it fuels unhealthy rumors and confusion.
TIP: The key to making this successful is to continually revisit the concept of collaboration. Employees must be included during all phases; their feedback not only needs to be solicited but regarded. The quickest way to lose your employee's interest in a new endeavor is for their ideas to fall on deaf ears.
3. Reviewing Organizational Workforce
The goal of reviewing our Organizational Workforce is to gain a deeper understanding of what our employees can and cannot do. We can accomplish this by breaking it down into multiple pieces:
1. Build a Skills Matrix:
Based on the previous step, we now know what we need for development and where the real issues/problems exist. We made lists of skills and competencies that need to be developed or improved.
The next step is to build a competency model or skills matrix based around this.
We will break this down into two separate divisions: Departments/Teams and Employees/Roles.
1.1 Departments/Teams
Based on the previous step we need to decide what needs to be done in the future, what is being used now and what needs to be improved. This stage obviously requires working with management.
Please take a look at the following example below, Learning & Development Plan 2019. Note the level of detail; this is an excellent reference for the type of matrix applicable on a departmental level.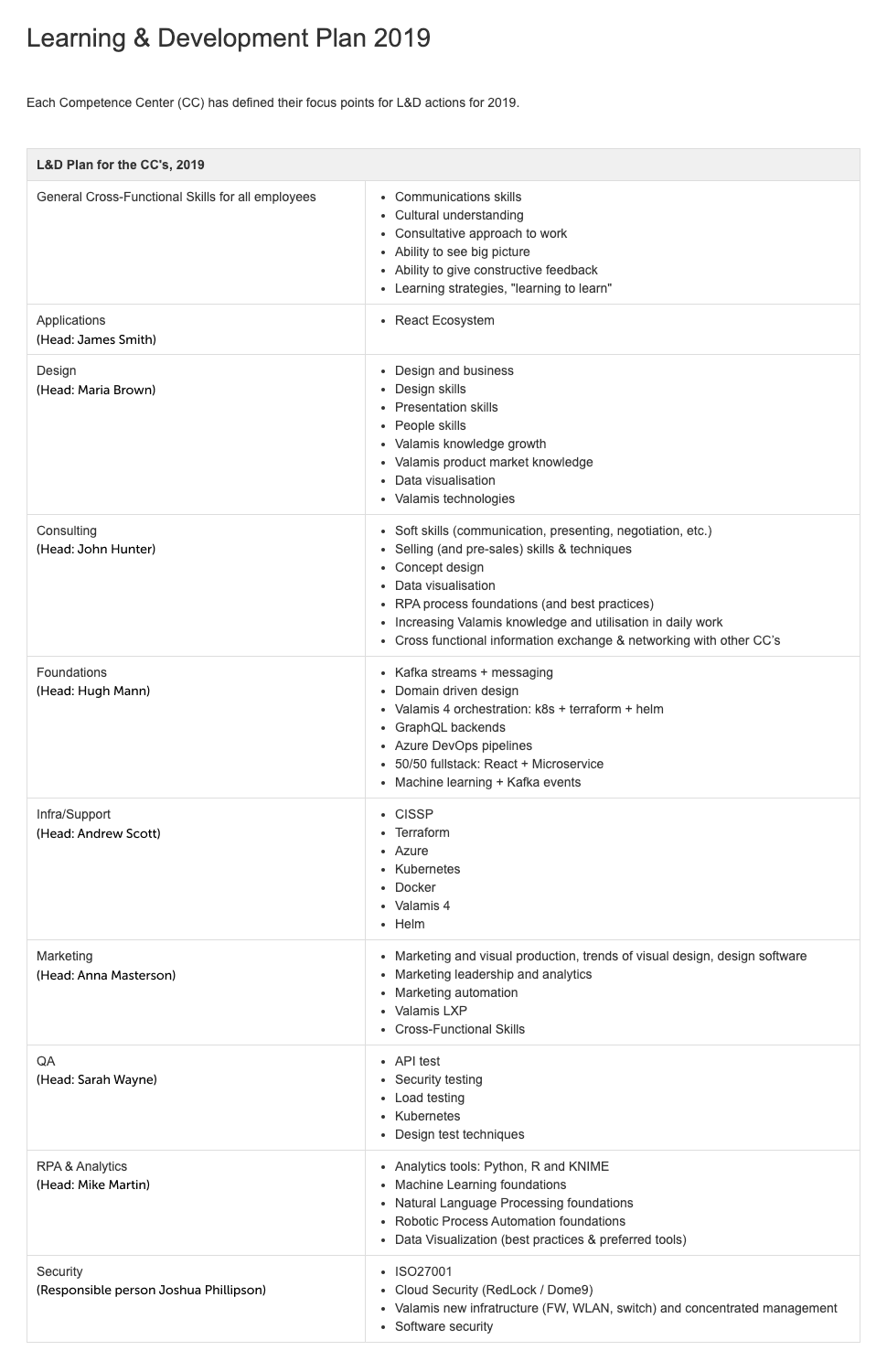 1.2 Employees/Roles
This nails it down further based on each individual employee/role and skills.
Please take a look at the following example below, Competences. Note the level of detail for "John Hunter". Not only have we identified John's skills (down to specific software), but we've also determined the level of proficiency for each.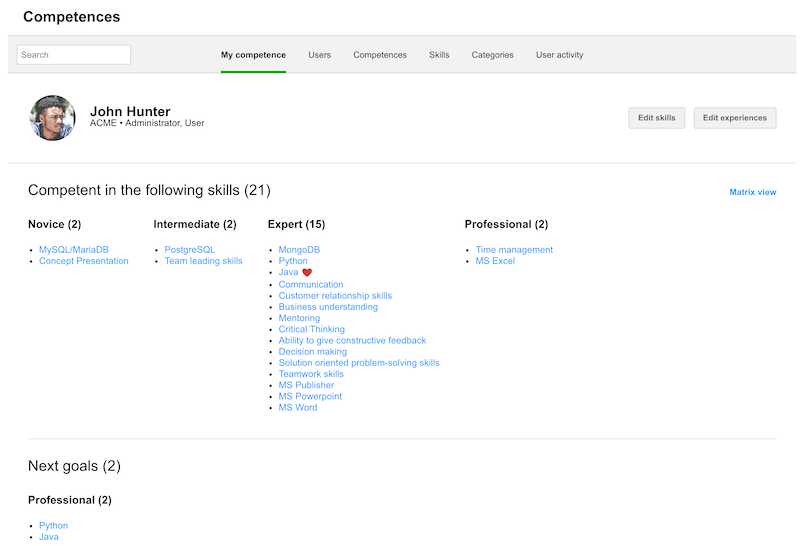 Why is this needed? This will help us understand which skills already exist in the company/organization, and based on the previous step, make a list of knowledge and skills needed to achieve the desired goals.
2. Evaluate
Finally, we want to evaluate the skills a company needs against the current skills our pool of employees possesses. For example, John Hunter reviews a list of desired skills > he adds the skills he thinks he has > the system or experts verify/grade that he meets the desired skill level.
4. Setting Employee Development Goals
It's important to develop a plan based on existing resources, abilities and of course, budget. In making a plan, the overarching question should be, "What needs to be accomplished for each role?"
Please take a look at the following example below, Product Area Training Plan 2019. We'll use this as an example of how to create a personalized learning path for each individual employee.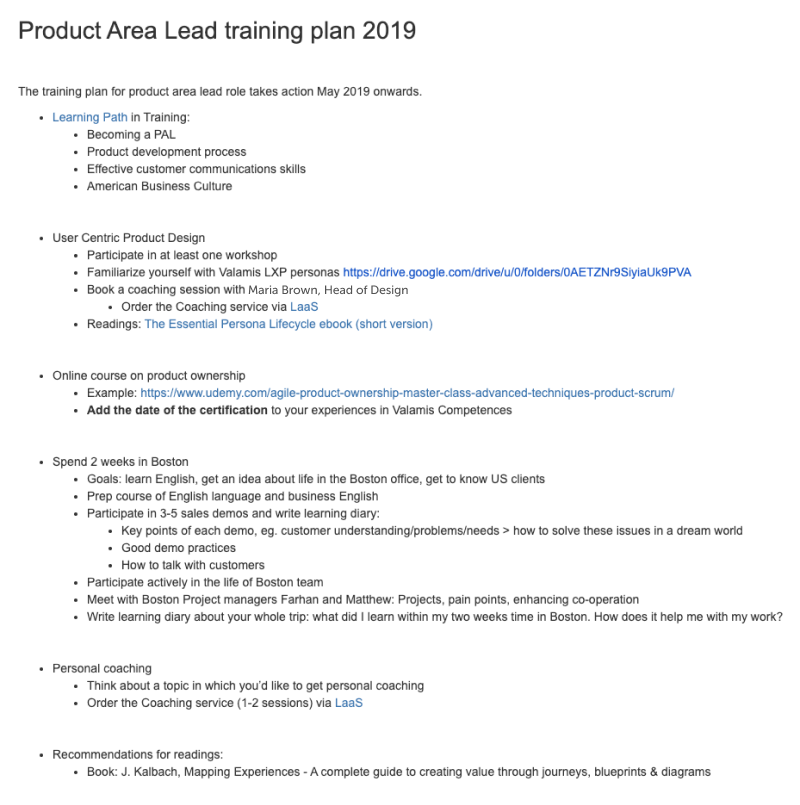 1) Make a Learning Path
Here you'll make a list of courses and activities for each role/team/department.
In our example above, for the Product Area Lead, it would look something like this:
Introduction- what does it mean to be a PAL?
Explanation of the development process
Effective communication skills for communicating with clients
Coursework: American Business Culture
Quiz – to ensure the information is retained
2) Activities that cannot be part of the course
These could include the following:
Participation in workshops (problem-solving, argumentation, working with declines, etc.)
Using the product – do it yourself, test how the product works
Meet with the manager to learn more about the product development process
External materials to read: The Essential Persona Lifecycle
3) Make a list of useful courses
Continuing with our example of PAL above, these could include the following examples:
4) Job rotation
Work trips to other offices or job rotations, for example, transferring developers to USA office:
The goal is to learn about the problems that clients face
Participate in 3-5 demos/presentations
Talk to the head of the department and find out the main problems with the product they are working with, the clients, how can the product be improved (in their opinion)
5) Personal coaching
The employee receives direct coaching based upon needs. This is usually at the request of the employee.
The goal is to gain a deeper knowledge and understanding of a defined topic. For example, How can I better track the product development lifecycle?
6) Recommendations for Reading
This is simply a list of books, publications or websites targeted for the employee's development.
5. Realization Stage
Keep in mind that our goal is to develop each individual employee/department and formulate a plan specific to those needs. With that in mind, one of the easiest and fastest ways (but one that requires budget) is using content providers: Linkedin Learning, Coursera, Udemy, OpenSesame, etc. The ease of access and quality of content makes such providers a valuable resource to consider.
Other methods that require more careful planning can be applied to the entire organization. For example:
Make a list of conferences for employees, which you consider they can participate in.
Organize workshops inside an organization, your own employees can be speakers or invite external experts.
Facilitate group conversations/talks (sales talks, leads, etc.). The main goal of these "talks" is knowledge sharing or to share the methods for accomplishing certain tasks. This is a great way of finding solutions to problems that may have not been previously considered. Topics for such talks can be prepared in advance or can be spontaneous.
Note: Mentoring should be part of a separate plan. It should include timelines, a list of mentors/mentees, checkpoints and final reviews.
6. Reviewing & Monitoring Results
The question that needs answering here is, "How did our Development Plan influence the processes?"
"Only 8% of CEOs currently see the business impact and only 4% see ROI of Learning & Development"
This is NOT the result we're going for! However, plans that are poorly constructed, vague or lack follow-through often net these results.
Change this by nailing down what improvements came about as a result of employee development. Understand that creating the plan is just the beginning – it must be implemented and reviewed to have lasting value!
Learn more in our white paper: Achieving Learning Impact: Aligning Corporate Learning For Business Outcomes
Monitoring results: This must be done for individual employees, and for the department as well. Things to monitor include:
Have individual development and department targets been met?
Has employee performance improved as a result of the development plan?
Have problems or challenges been solved?
Has the plan delivered as expected?
If there are shortcomings – either pertaining to individual employee development, or in the plan itself, what were the reasons and how do you resolve them?
7. Going Back to the Drawing Board (if needed)
Employee development is vital for the organization. So, if you are not satisfied with the feedback you get during the rollout – don't hesitate to go back to the drawing board.
Revise/fine-tune components if required
Hold formal assessment
Give employees an opportunity to provide feedback and inputs
Did you address the main question, "How did our Development Plan influence the processes?"
This 7-step employee development plan primarily sets out a series of sequential steps that organizations can take to build a comprehensive plan of their own. For instance, you can't conduct a Workforce Review (Step #3) without doing a comprehensive Business Goals Assessment (Step #1).
Additionally, when building your own employee development plan, we cannot stress enough the importance of Communicating With Employees (Step #2). Since the focus of the plan is your employees, they must be the center of everything that you do. As a result, Step #2 will likely be a recurring theme through the 7-step cycle.
Bonus:
Employee development plan ideas
Here are some tips to help you come up with your own unique set of developmental plans. The suggestions here follow the general 7-step plan discussed in detail earlier. However, we've provided high-level thoughts to help you create employee development suggestions of your own.
Continuous Learning Approach
Try to build a learning culture in the organization (more information can be found in this article on continuous learning). The main goal is to promote and encourage continuous development and training.
Create communication channels for learning and development: Social learning is a powerful tool, one such example being the team collaboration tool Slack, which can also create personal education/learning channels and share useful information.
Encourage employees to share useful articles and books.
Allow your employees to select courses that they think will benefit them and compensate them by paying for these courses.
Hold lunch presentations or discussions on a monthly basis. Provide food and have one of the employees share something about new technologies, something that they recently learned at the conference or course.
Mentoring is also a great way to promote a learning culture. Offer opportunities for employees to choose the topics they want to learn about and help them find a mentor who has experience and can help them.
Be open to employees' ideas – oftentimes, they know much better than management what courses or conferences they need to take/attend to improve productivity/performance.
Citations: