Updated
Contents:
What is SCORM?
SCORM is a set of standards and technical specifications that enables e-learning course creators to create courses and share them across multiple platforms.
SCORM is an acronym for Shareable Content Object Reference Model.
SCORM also allows e-learning providers to track the progress of their learners, in turn using that data to deliver a better learning experience.
What is SCORM compliance?
When e-learning was first becoming a booming industry, multiple platforms created and packaged their own content, which was only compatible with their own learning management systems, or LMS.
This meant for course creators and users that anything created on one LMS was stuck there, regardless of if that particular LMS worked well.
The Department of Defence's Advanced Distributed Learning Initiative created the set of standards that would become SCORM in part to help regulate the industry and allow functionality between many different course authoring softwares and learning management systems.
To better understand the meaning of SCORM, it helps to look at what SCORM stands for in two parts:
Shareable Content Object - Content created within SCORM standards is shareable across tools and platforms. This is the same idea as having a standard plug for all electrical devices. Content created with a SCORM authoring software is output as a Zip folder, called the Package Interchange Format, which contains all the information necessary for a SCORM compliant LMS to publish and host the course.
Reference Model - This informs you that there is a model, with standards and rules that apply and must be obeyed. This produces consistency across the industry.
Simply put, using a SCORM compliant course authoring tool, or the native course builder of a SCORM compliant LMS, means that you can then publish the course on any SCORM compliant LMS. Your course will work on a multitude of platforms without needing any adjustments, and you will be able to track the data from your students.
What is a SCORM compliant Learning Management System (LMS)?
A SCORM compliant LMS is a learning management system that abides by the rules set out within SCORM. You can upload your SCORM compliant course and it will work perfectly within that system, allowing users to access your content.
Checking for SCORM compliance is important when researching which LMS to use. Check that the LMS is compliant with the version of SCORM you are working with, including SCORM 1.2 and SCORM 2004.
What can be tracked by SCORM?
One of the advantages of using SCORM is the ability to track data within the courses.
By using SCORM, you can track:
The final score of the course
Test and quiz results
Specific answers given by students
Which pages are viewed, and for how long
Total time spent
Score per module or objective
Learner progress, so they can resume at the point they left off
Overall status, such as pass, fail, complete or incomplete
By using SCORM to track data, you can more easily see how learners are interacting with your content.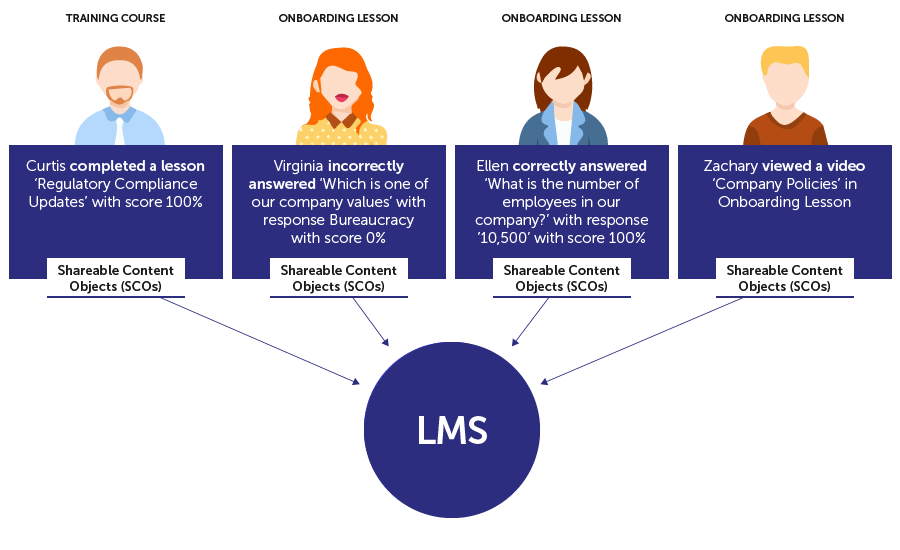 What are the benefits of using SCORM?
The pros of using SCORM:
SCORM has a plug-and-play functionality that allows for the one-time creation of courses and distribution on a large number of platforms.
E-learning creators can choose from a large number of authoring tools and LMS, allowing them to find the right fit for their needs without sacrificing the ability to distribute content widely.
As the de facto industry standard, using SCORM means that content will be accepted by the majority of platforms, while non-SCORM compliant content may be rejected.
Creators can be secure that a SCORM compliant LMS will deliver the content error-free.
The use of SCORM can help bring down the cost of integrating new courses by up to 80%, as well as saving time.
Using SCORM can make your content more interactive and engaging, as many authoring tools have many features that you can add to courses.
The cons of using SCORM:
SCORM is an old standard, with the most popular version dating from 2004. In technology, that is ancient. New e-learning options, such as mobile learning using phones or tablets, are not an area of strength.
Newer technologies have emerged, challenging the industry-wide dominance of SCORM. It may not make sense to implement SCORM compliance now, as courses might have to be reformatted in a few years.
Some SCORM content, especially videos, can be buggy for Apple iOS users, as it was developed with Flash in mind and works less well when replaced with HTML5.
Authoring tools can be extremely expensive, and some have a high learning curve. If creators need training, that is an additional expense.
SCORM vs xAPI (also known as Tin Can API)
Experience API, also known as xAPI and Tin Can API, was released in 2013. Similar to SCORM, xAPI is a protocol that allows e-learning content creators to track data around learning activity.
Take a look at the significant differences xAPI vs. SCORM.