What is an Authoring Tool?
Updated
This guide contains everything you need to know about authoring tools.
So If you want to choose the best authoring tool for your needs, to create stunning content and improve learning results, you are in the right place.
Discover:
---
What is an Authoring Tool?
An elearning authoring tool is a software program that enables users to create learning content, lessons and courses using text, media, and interactions. Mainly such content developed to use it in LMS and can be saved in various formats.
A user does not actually need any technical programming expertise to utilize the software.
Instead, elearning authoring tools are generally pre-programmed and offer a ready-to-use interface complete with templates, media, tools, interactions, and tests that the user can easily arrange and manipulate.
How do authoring tools work?
No two content authoring tools are alike. Created by different software companies, there are a wide variety of program options that cater to different elearning needs.
Some programs are geared towards non-specialists who require rapid elearning development and just want to utilize pre-made templates for simple content, interactions and quizzes, while other programs are geared towards specialists who want to develop highly customized content, such as adaptive learning experiences, simulations or custom gamification.
Despite the variation available in features and functionality, authoring tools all perform the same overall function: they create elearning courses for an end-user audience by way of content creation, content organization, and content standards.
---
Authoring tool Features & Capabilities
Let's take a look at some major authoring tool capabilities and the specific features that they offer:
1. Content authoring
The core feature of any authoring tool is the ability to create lessons.
This includes adding and editing slides, images, text, video, audio or any other on-screen element.
These features will enable you to bring your course to life and represent what the learner will be seeing, hearing, and doing.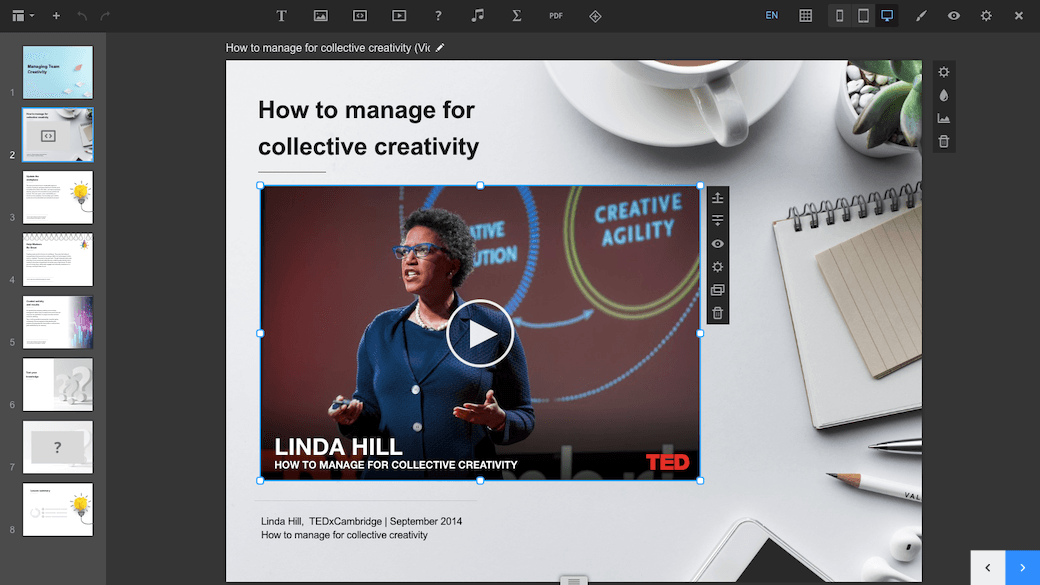 The kind of e-learning course that you create depends on these core content authoring features:
Images
Add or import images
Edit images
Audio
Import and export audio files
Edit audio files
Record audio for narration
Include audio files in on-screen interactions
Video
Webcam recording
Screen recording
Import and export videos
Insert videos to interactions
Link to external video sources
Edit videos
Animations
Animate on-screen images or text
Ability to import Flash animations
Ability to import HTML5 animations
Ability to insert text animations
Formatting
Text & style editing
Object alignment & editing
Background themes
Create master slides
Navigation player skin options
Page transitions
Responsive design
Importing a PowerPoint lesson
---
2. Interactivity
An e-learning that engages a learner by having them actively participate in the course involves a host of interactive features.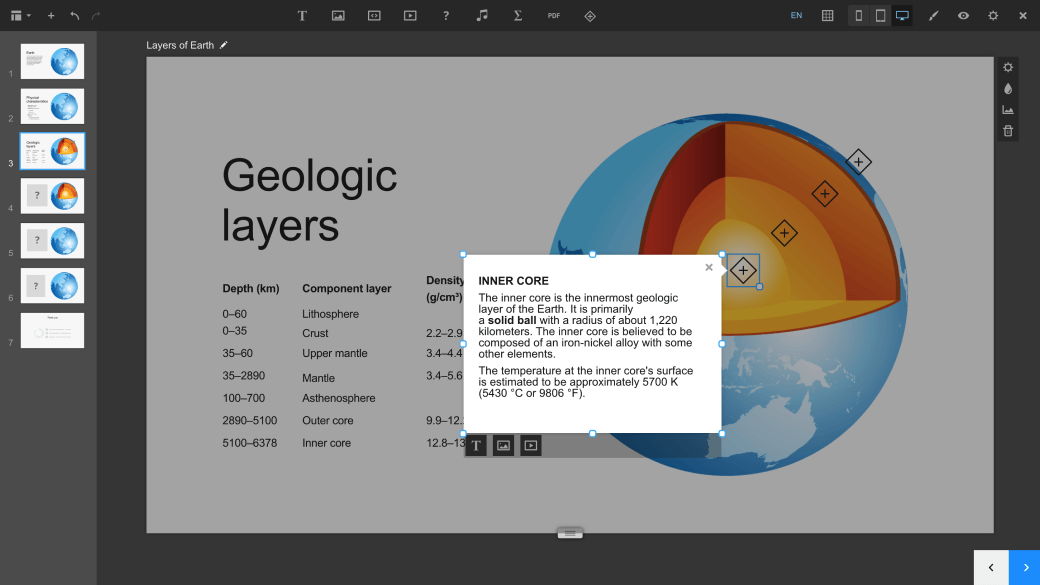 Interactivity can help increase learner engagement and retention by enabling the learner to take a more active role in acquiring information; this can be through the discovery of information, solving a problem, or working through scenarios.
Here are some major features that improve interactivity:
Built-in activities: drag & drop, matching, hotspot reveal, sliders, or dials
Create custom activities or games
Create interactions or character scenarios with on-screen objects or images by:

Slide layers
States
Triggers
Pop-ups
Variables
Markers
Buttons
Scrolling panels
---
3. Templates and theme
Whether you have specific organizational branding or you just need to find a consistent look and feel, the theme capability of an authoring tool will help you establish the right design for your course.
A consistent theme and template is especially important if you are developing more than one course for the same audience.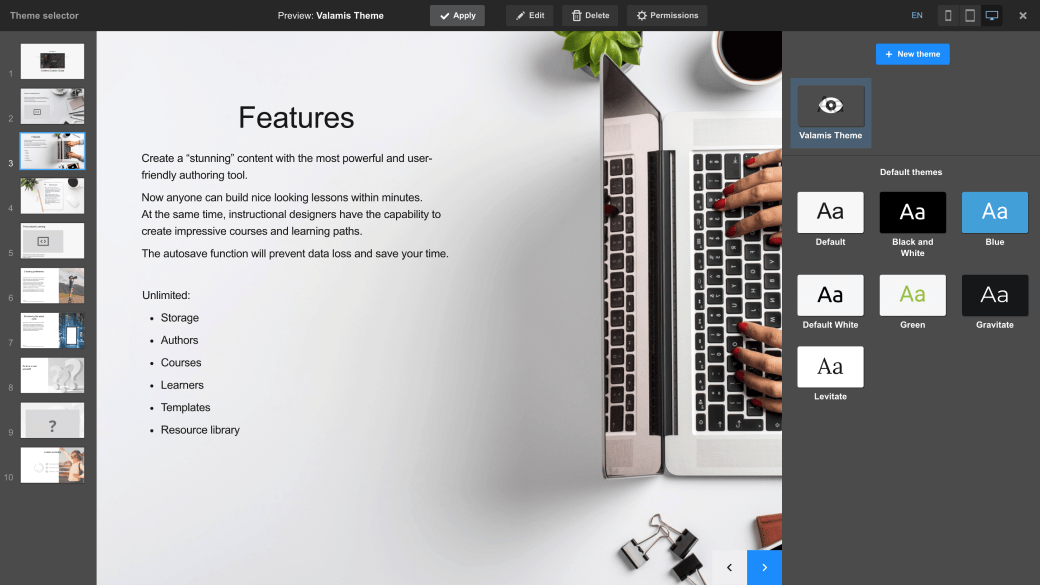 Having a consistent look and feel means that your learner's attention is on the content instead of being distracted by different designs.
Here are some template features to consider:
Custom theme for entire course
Background themes
Built-in template shells
Ability to create custom templates
Navigation player skin options
Ability to import external themes or templates
---
4. Content management
It is important to be able to organize your assets, media and other content.
You may want to use them again later, either for a new course or for updating a course in the future. It saves time on development and keeps the workflow organized.
Content management features also enable you to stay in control of all the tools and resources you need during the development of your e-learning.
Here are some core content management features to look for:
Course and lessons libraries
Quiz and question bank
Template library
Resource & Media library (video, audio, images, etc)
---
5. Collaboration
E-learning development involves many different people, which can make things challenging when you have to start sharing the course file with them.
With the collaboration options now available, keeping all stakeholders involved has never been easier.
Collaboration features enable you to quickly and easily share an e-learning with whoever else might need to see it or work on it.
Consider the following features for getting collaboration going on your own e-learning project.
Review system with feedback
Co-authoring
Shared resources
Share options (email, link, social media, upload)
User roles
Author control
Versioning
---
6. Assessment
Assessment features help determine what your learner has retained in the course, enables a way to track learner achievement and progress, and also helps you to determine the effectiveness of the course.
The following features contribute to assessing the learner:
Quizzes

Form-based questions
Open questions
Multiple retry attempts
Feedback
Course assessments

Question bank
Random questions
Shuffle
---
7. Accessibility
Making sure that everyone can take your e-learning course is at the heart of accessibility.
In order to respect the different audio-visual sensory needs of individuals, accessibility features can change or add on-screen elements, interactions and formatting in order to suit different audience needs.
Here's a list of features to look out for in an authoring tool in order to make your e-learning development more accessible:
Compliance with Section 508 accessibility guidelines
WCAG 2.0 Support
Closed Captions (CC)
Keyboard-accessible navigation
Accessible font sizes
Custom tab order
Skip navigation
Language ID for screen readers
Translation file export
---
8. Publishing
Every organization has its own specific publishing requirement in order for an e-learning to be uploaded and made accessible for learners.
It is important to check what your own requirements may be in order to choose an authoring tool that is compliant with your organization's Learning Management System (LMS) or needs.
Here are the most current publishing formats available:
HTML5
Flash
iOS
Android
CD
File
Cloud-based
Publish to Microsoft Word or PDF
Compliance standards
---
9. Administration
Having the flexibility to set-up preferences and organize the workflow enables everyone to work in their own style.
Administration features enable you to set-up the tool for the way you need to work.
They also help you to navigate and better utilize the features and functionality of the authoring tool.
Here's a list of administration features that can come in handy:
Language settings
Flexible workspace setup (movable windows, tools, dockable panels)
Preview and view preferences
Autorecovery
Roles and permissions
Single sign-on (security)
---
10. Support & Training
Both novice and experts benefit from help being available with any authoring tool. How much support and assistance you might want depends on your needs.
Some authoring tool brands offer help in the form of live chat support, training courses or guides on specific topics, and even dedicated community forums that enable developers to get troubleshooting help or ask questions.
Here are the types of support and training features often available:
Online community forum
Live chat support
E-mail or phone support
Tutorials and how-to guides
Video guides
Consultancy services
Webinars
Demos
Updates & Upgrades
---
What does SCORM compliant authoring tool mean?
Most elearning authoring tools need to be compliant with content standards. This means that the course can be exported to a file type that will be compatible and supported by SCORM compliant LMS systems.
For end-users to access a published course, the course needs to be located somewhere accessible - like the internet or an LMS. This is where content standards come in.
The most common standards are SCORM, AICC or xAPI.
When the elearning content is exported to one of these standards, it will be compatible with an LMS that supports the same standard.
Because there are so many types of authoring tools and LMS platforms, the absence of a standard would mean that authoring tools and platforms would not be able to speak to each other. Content standards, like SCORM and xAPI, ensure smooth integration.
---
How to choose an authoring tool?
How do you choose an authoring tool for your own training or organizational needs?
In order to make the right decision, it is important to understand the needs and requirements of your specific training project.
Most authoring tools have their own unique combination of features and capabilities catering to different training needs.
Ask questions about your project in order to understand what features and capabilities you may need, such as:
What expertise level will be working with the software?
Novice level with no programming experience
Expert level with programming experience
What kind of e-learning course do you want to create?
Quick, template-based course with text and images
Video-based e-learning
Animation-based e-learning
Custom scenario-based e-learning
Custom e-learning with complex interactions and graphic design
With a clearer picture of the intended e-learning project, the features and capabilities of software can be checked to ensure that the right tool is chosen.
---
What types of authoring tools are available?
Technology changes quickly over time, and content authoring tools are no exception.
In a bid to keep up with new modes of learning, like mobile or app-based learning, new and revised authoring tools are coming to the market with a variety of features and functionality for every need.
At a high-level, elearning authoring tools can be both cloud-based and desktop-based, with cloud-based gaining in popularity.
While offering the same core features and functionality as the desktop version, cloud-based authoring tools allow for seamless, synchronous collaboration with other developers or stakeholders.
No large software install is required, nor the need to check for updates.
---
eLearning authoring tools comparison and examples
Here is a list of The Best eLearning Authoring Tools of 2017 based on www.pcmag.com reviews.