Customer Training
The Definitive Guide
Discover:
What is Customer Training?
Customer training is the process of providing knowledge and training to customers regarding the successful use of the company's services or products.
The end goal of customer training is to increase the satisfaction of using the company's services or products resulting in maximized customer retention.
This support can be delivered in a myriad of ways; customer training can be guided or self-paced, video-based or text-based, aided by gamification or graphics.
The most common training options are online tutorials, guides, documentation and knowledge libraries, another good option can be to create lessons or event courses.
Why Customer Training is Important?
Customers may leave for many reasons, but one main reason they do so is that they find the product confusing, hard to use, or incompatible with their needs.
This is especially true with products or services that have a steep learning curve. It stands to reason - if the customer cannot use the product, they will find it unnecessary and find a product that they can use.
Why providing customer training is so important:
customer training minimizing the chance that customers will abandon your product or service.
If customers are properly taught how to use the product, then they will see the reasons that using it will help them and their business.
Good customer training will also improve loyalty.
The more seamless the process to learn your product, the better the customer will enjoy the experience.
Benefits of Customer Training
Customer training has many benefits, both for the organization and the user.
Building a good customer training program will benefit your company in the following ways:
1. Customer training allows users to understand the value of the product
To earn a customer's loyalty, they must see the value of the product or service that you are providing.
In providing good customer training, they will reach the point of value early in their experience, quickly seeing why this product will help them.
2. Maximizes customer retention
Customers who are frustrated by a steep learning curve will cease using the product, regardless of how much the product might eventually help them.
Assisting the customer to understand how to properly use the product will make their experience more positive, leading to higher customer retention rates.
3. Decreases the number of support tickets
Another benefit of customer training is a decrease in support tickets.
Customers who know and understand the product will not need assistance from your support staff, decreasing support costs for your company and allowing them to focus on users with more complex issues.
4. Better onboarding experience
Customer training can deliver a seamless onboarding experience to customers, allowing the product to be used faster.
Delivering great results quickly will ensure that the customer is pleased with the product, and will more quickly benefit from using it.
5. Higher product engagement
Customers who understand how to use the product will use it more often.
Good customer training teaches users how to make the most of the product, while bad or no customer training will encourage them to find another product.
6. Higher percentage of upgrades
When customers see the full value of the product that they are using, they are more likely to buy in to upgrades.
7. Creates loyal customers and brand promoters
Any product that is frustrating or hard to use will not earn loyalty from customers.
With good customer training, a user will see the value of the product, be impressed with the support they receive, and be much more likely to recommend the product to colleagues.
These personal recommendations are likely to lead to new customers.
8. Increase company revenue
It can be anywhere from 5 to 25 times more expensive to acquire a new customer than it is to keep one.
Keeping customers happy by providing smart and effective customer training will increase subscription renewals, referrals by happy customers, and upgrades.
It is clear to see that developing a proper customer training program will benefit any organization offering products or services in a crowded marketplace.
The better the training, the more clearly a customer understands the value of the product and the more likely they are to become a loyal customer.
Customer Training Examples
Good customer training looks different depending on the type of product or service offered.
These customer training examples will help illustrate how to offer a great customer training experience and take the pressure off your support team.
Hubspot Academy
Hubspot, a popular web-based inbound marketing tool, uses videos, quizzes and a certification program to train customers how to get the most out of their service.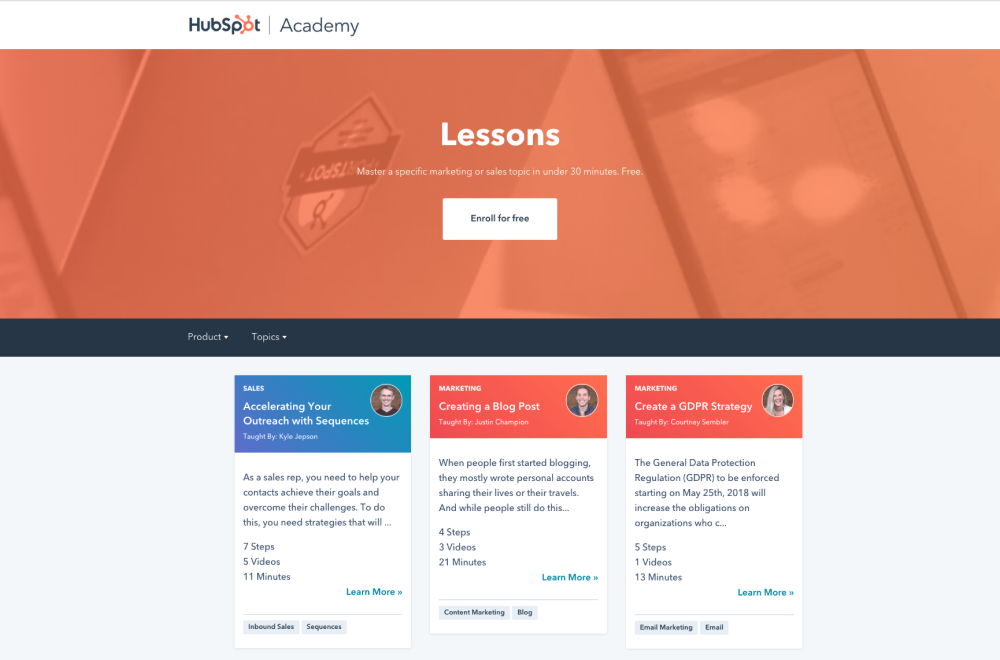 In providing quality videos, they make onboarding an easy and quick experience. They group content by topic, type and category, making it easy to navigate to the relevant content.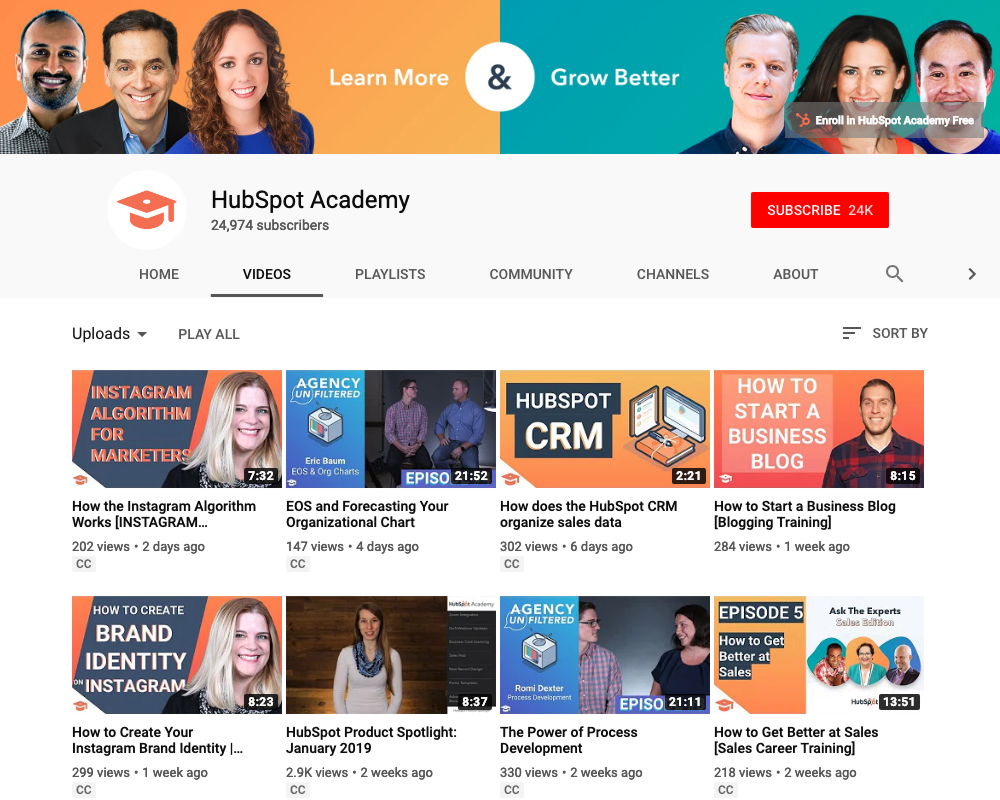 Customers don't have to complete the certification, which is about 40 videos and self-check quizzes, but they do get a badge if they do, which can be displayed on websites, social media and email signatures.
Google Academy for Ads
Google's advertising platform uses high quality videos and follow guides to train their customers.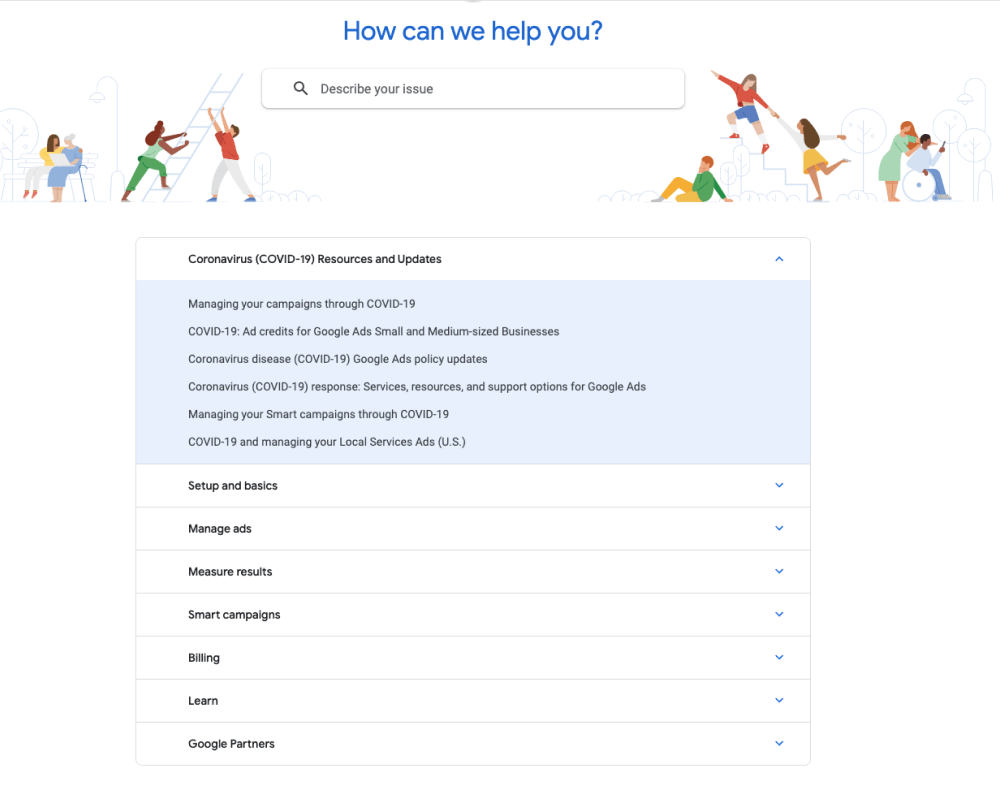 The videos are short, between two and six minutes long, which delivers a bite-sized package of information easily digestible by the user.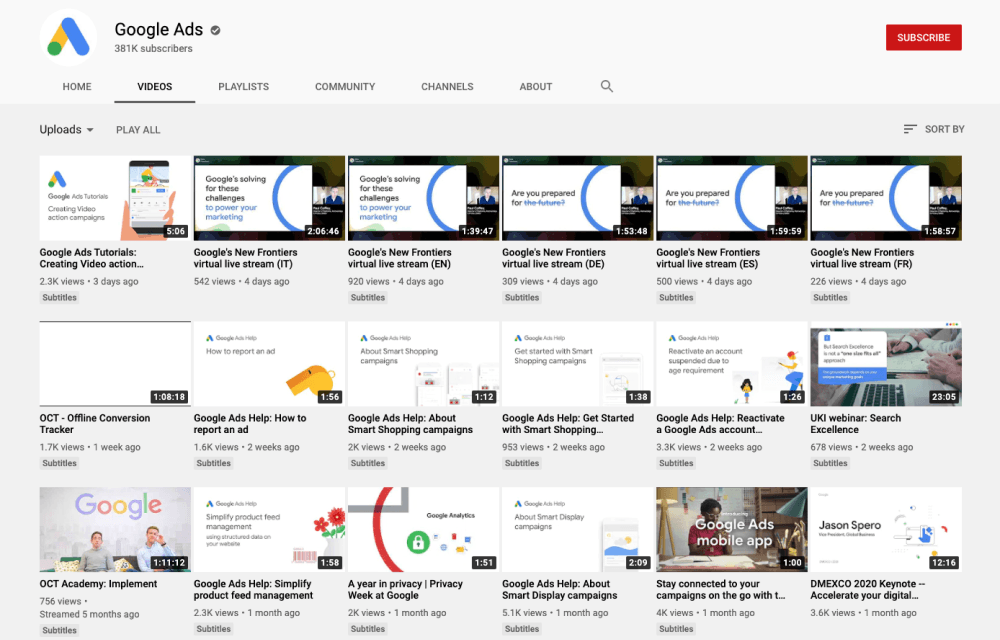 The guides involve step by step instructions, animations and videos, linking back to the user's Adwords account at relevant moments.
Users can navigate the training either by computer or phone, which allows for learning on the go.
More examples: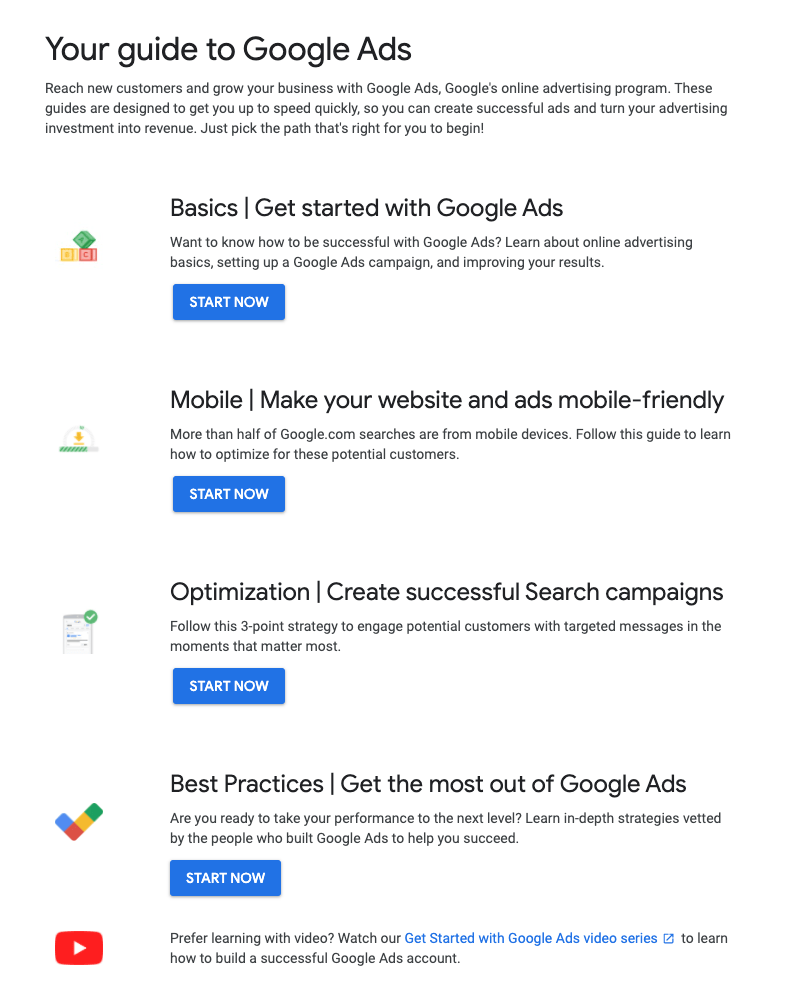 Google Ads Certification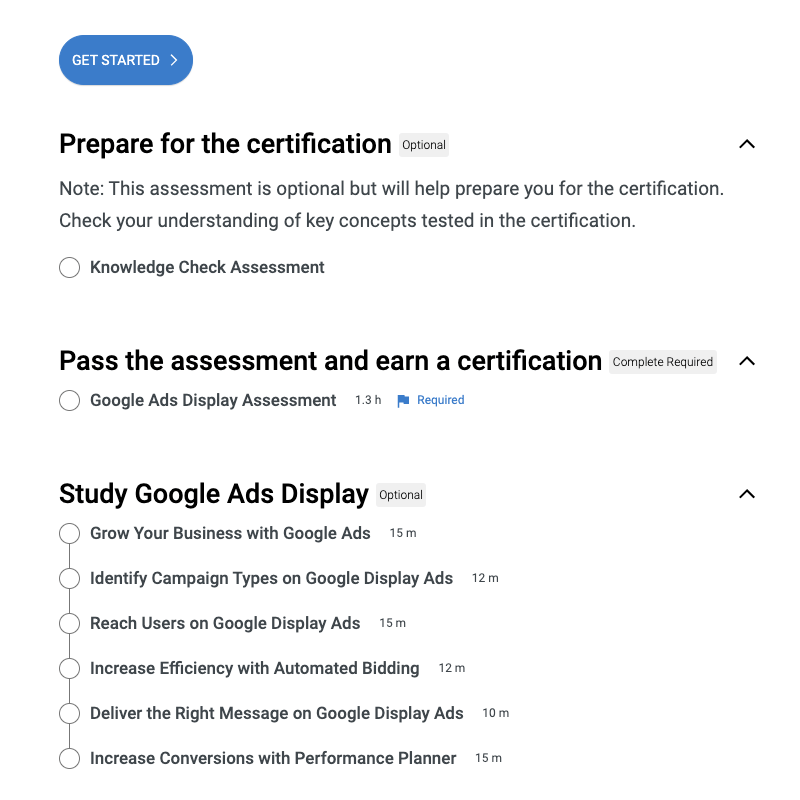 Trailhead - Salesforce University
Trailhead is a free training program of the Salesforce customer relationship management platform.
Through this program, they offer in person training, live webinars and certifications.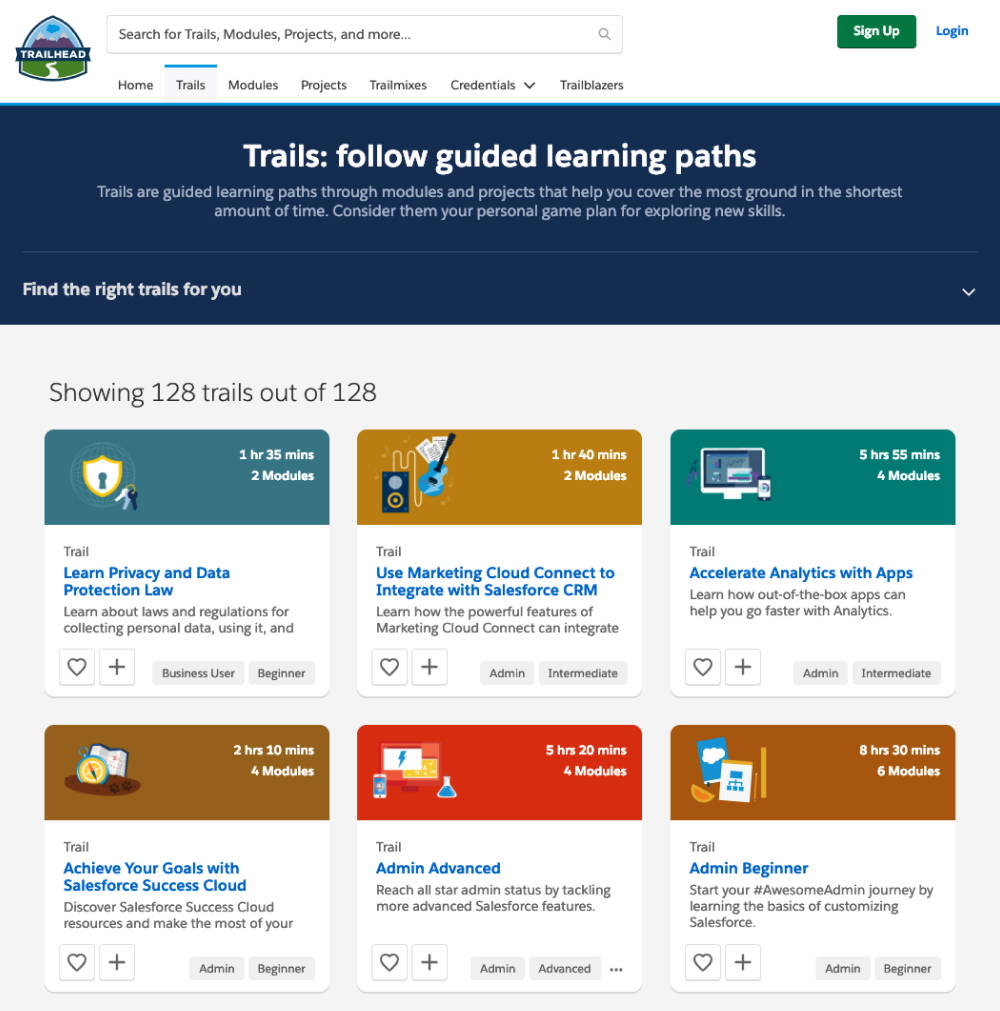 This program is cleverly put together using filters for role, level and content, delivering a customizable learning path that teaches the user exactly what they need to know for their specific role.
Modules are broken down into bite-sized chunks of ten to twenty minutes, keeping learners better engaged.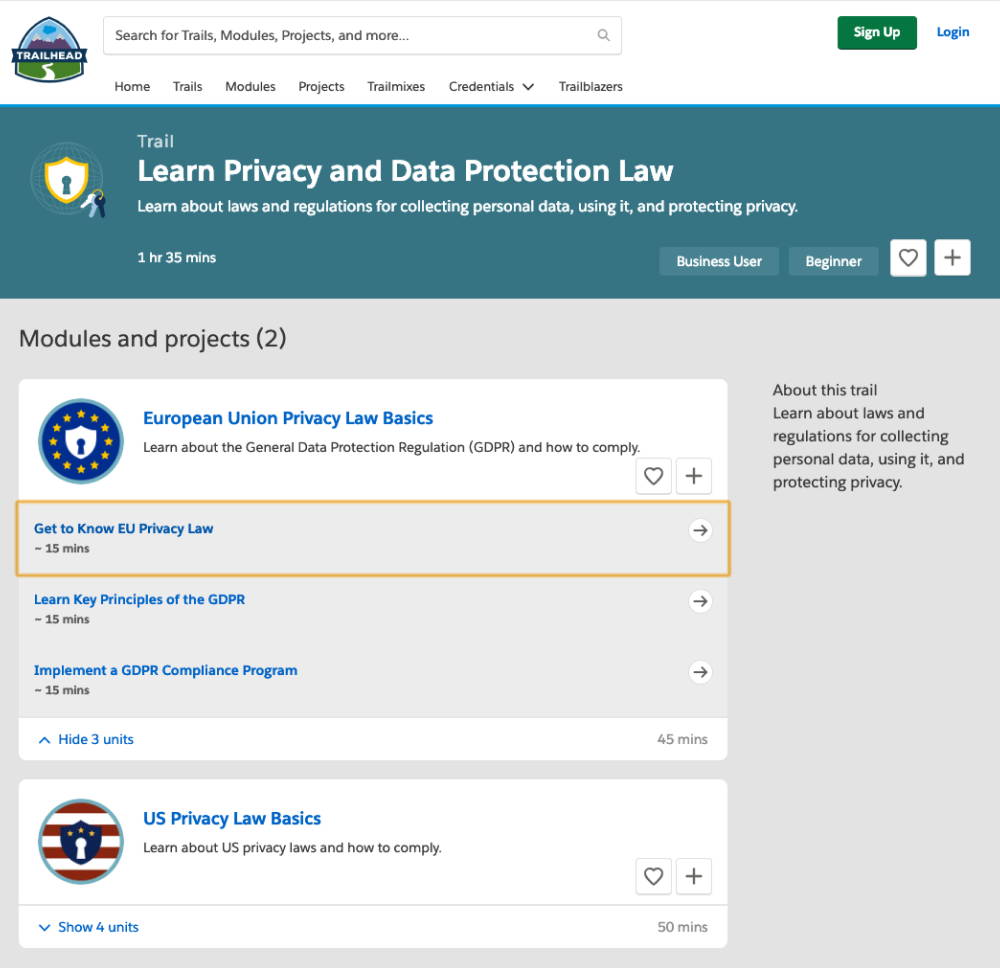 Mapr Academy
Mapr is an AI and analytics company that offers free training and development resources, including instructor-led courses and certifications.
Their best-in-class training provides resources for developers, administrators and data scientists, as well as a huge support portal that includes a vast knowledge base.
Users can navigate easily to areas of interest and take classes in their own time, making this an extremely accessible learning portal.