Diversity and Inclusion Training
Diversity, Equity, Inclusion (DEI)
Updated
Diversity, equity and inclusion training is an increasingly important topic for organizations in every industry.
As the conversation around this topic grows, it is important for all organizations to look at their own diversity training programs and see where they can improve, become more effective, and, importantly, understand what does and doesn't work.
After reading this guide, you will better understand the various types of diversity programs, how to build an effective program within your organization, and why you should be paying attention to this important subject.
Contents:
---
What is diversity and inclusion training?
Diversity and inclusion training is an organized educational program that aims to promote awareness and understanding of how people with different backgrounds, cultures, ages, races, genders, sexuality, religions, physical conditions, and beliefs can best work together harmoniously.
Sometimes it is also referred to DEI or DEIB, which means diversity, equity, inclusion and belonging.
It aims to highlight areas where people might hold bias or outdated beliefs, provide information to help counter those biases, and overall train people to treat their fellow employees with respect and dignity.
An effective diversity and inclusion training program will teach employees how to recognize bias within themselves or others and show them how they can unlearn negative behaviors associated with it.
It will provide information that highlights the positive ways that changes in behavior can affect themselves, their colleagues, and their organization.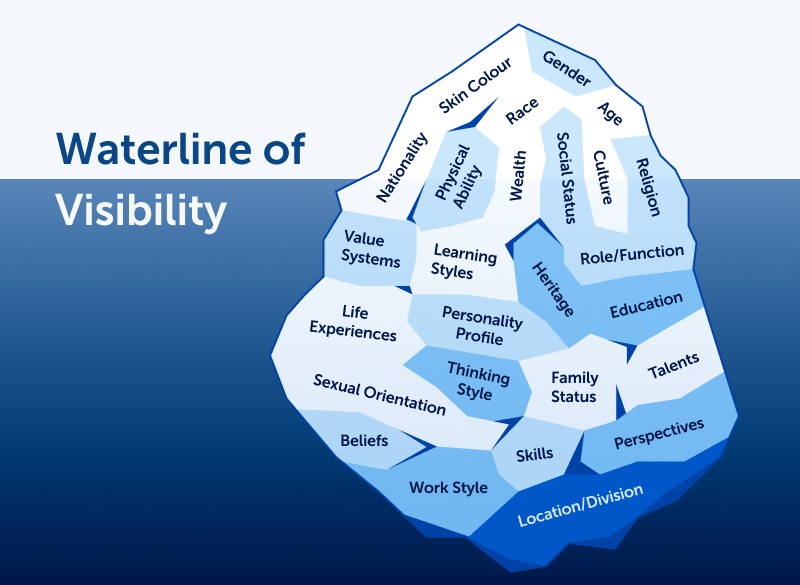 ---
The goals of diversity training
Diversity and inclusion training aims to create a more harmonious workplace by increasing employee's knowledge and awareness of cultural, religious, or racial differences while delivering information about how a person can change their behavior to be more inclusive.
In order to figure out how to reach that overarching goal, many companies will use surveys to ask their employees what their short and medium-term goals should be.
Each organization will have different areas that need work, and their employees will be the best source of information on which areas are the most pressing.
Here are some common goals that organizations have identified:
Create a healthy working environment where people of different backgrounds, experiences, perspectives, and talents can productively work together.
Increase the number of women, people of color, or otherwise underrepresented people within the organization.
Increase the use of inclusive language within job postings, internal communications, and external communications.
Increase the amount of time and money spent on diversity and inclusion training within the organization.
Create an environment that nurtures and promotes diversity.
In spending time on internal surveys, an organization can better understand where they need to focus their energy. It might be that job postings are not inclusive, so there are no diverse applicants applying for the job.
That leads to fewer diverse people within the organization, all because the job posting was not written well.
---
The importance of diversity and inclusion training in the workplace
McKinsey has researched this subject deeply and has released a series of reports highlighting the business advantages enjoyed by companies with more diverse employees.
Released in 2015, 2017, and 2020, these reports show that diverse companies are 35% more likely to deliver above-average profit margins, as well as delivering more long-term value creation.
Significantly, these reports have found that "the most diverse companies are now more likely than ever to outperform non-diverse companies on profitability… we found that the higher the representation, the higher the likelihood of outperformance."
However, these reports also show that there is slow growth in this area, with many companies struggling to achieve significant results, or even reporting that diversity within their ranks has decreased.
This demonstrates the difficulty of creating effective diversity programs, and the importance of continually working to improve diversity training within an organization.
These reports also show that ongoing diversity and inclusion training is a key factor to retaining diverse talent within an organization.
It stands to reason - it is difficult to keep employees in an environment in which they do not feel welcome.
---
Real-world examples of why diversity training is important
Starbucks
In 2018, Starbucks found itself in the middle of a public relations crisis when an employee called the police on two black men who were waiting for a friend in a Philadelphia cafe without ordering anything.
The men were arrested, despite doing nothing wrong, and the incident went viral.
Many activists used the incident to highlight bias against Black people and protesters began to hold demonstrations inside stores.
In response, Starbucks decided to close all of its 8,000 U.S. stores for a day to hold racial bias training.
The program, "designed to address implicit bias, promote conscious inclusion, prevent discrimination and ensure everyone inside a Starbucks store feels safe and welcome," according to the corporation, was met with a mixed response.
Experts in diversity and inclusion pointed out that research shows that this type of one-day training often fails to produce even short-term results.
Starbucks leadership acknowledged that the issue was not one that could be solved within one day, and promised to create a program that was central to the company's core mission and in line with their values.
Sephora
High-end cosmetics store Sephora found itself in a similar situation to Starbucks in 2019 when rapper and musician SZA reported being racially profiled at a Los Angeles store.
After major news outlets around the world picked up the story, linking it back to the incident in Starbucks the year before, Sephora announced that it would be closing all US stores for an hour for diversity training, although they clarified that this was planned before the incident with SZA happened.
As with the Starbucks response, experts pointed out that one hour of diversity training would, at best, do nothing - and at worst, can actively ignite bias within employees.
Sephora corporate leadership acknowledged that they must do more, stating that this step was "the start of a larger diversity initiative that includes the creation of employee resource groups and social impact and philanthropic programs and more inclusivity training for managers."
The City of Seattle
The city government of Seattle created a controversy when an anonymous city employee revealed that they were racially segregating the diversity training of city employees.
White employees received training separately, and of different content, than employees who identify as people of color.
White employees were enrolled in a session that aimed to "examine our complicity in the system of white supremacy … and begin to cultivate practices that enable us to interrupt racism in ways that are accountable to Black, Indigenous and People of Color (BIPOC)," whereas people of color were invited to participate in a session that looked at how "American conditioning, socialization, and history leads People of Color to internalize radicalized beliefs, ideas, and behaviors about themselves, undergirding the power of White Supremacy."
While some experts agreed that the two groups might benefit from content contextualized to their lived experience and backgrounds, diversity training is more effective when various groups can come together to better understand their differences - and similarities.
---
What are the benefits of diversity training?
Diversity and inclusion training has two sets of benefits.
On the one side, there are business-focused benefits:
Drive bottom-line business success
Deliver long-term value creation
Avoid public relations disasters
Bring in diverse talent with unique points of view
And on the other, people-centric benefits:
Promote a healthy and inclusive organizational culture
Improve employee retention
Boost employee morale
Happy employees produce better business results
These two sets of benefits dovetail together. When an effective diversity and inclusion program is deployed within an organization, it sets off a chain reaction of positive results for the organization and the people working within it.
Employees feel more respected, are happier within their interactions with colleagues and managers, and will work harder for the organization that elevates and respects them. They sell more products, or deliver better code, or are more efficient in their duties. They stay within your organization, perhaps being raised to senior-level posts, keeping down hiring costs and organizational knowledge remains within the company.
Clients receive great service or have their problems solved more quickly, and are happy with their results - perhaps even becoming evangelists for your company. As more people have positive interactions with your organization, better business results are soon being seen in your profit margins.
---
Examples of diversity training activities
There are many ways for an organization to introduce diversity and inclusion training without it being a lecture or PowerPoint presentation.
1. What I want you to know about me…
This activity asks participants to write down on a sheet of paper an answer to the following prompts:
What I think about me
What others think about me
What might be misunderstood about me
What I need from you
It's important that participants are encouraged to answer these questions only as much as they are comfortable.
It should not be obligatory for them to share deeply personal things if they are not willingly doing so.
Once the questions have been answered, the team should go around and address each person's answer, and then a debriefing session should be completed.
The debrief should prompt participants to think about what they have learned about their peers, how it felt to complete the activity, and how they might be more inclusive in their actions going forward.
2. I am, but I am not…
For this activity, participants are given two sheets of paper. On one sheet, they will write an aspect of their identity.
An example of this could be Black, Asian, disabled, blind, gay or any other aspect of their identity that they wish to share.
On the other sheet, they will write what they are not, which will usually focus on a common stereotype about that identity.
For example, 'I am Asian, but I am not good at math.' Participants should fill out three to five of these sheets.
The purpose of this is to highlight the various stereotypes that the participants have had to face throughout their lives and to dispel them.
After everyone has shared their responses, the group should have a debriefing session where they can share what they learned, how they felt about hearing their peers' responses, and how they felt sharing their own experiences.
3. Perspective taking
In this activity, participants are asked to put themselves in someone else's shoes.
Participants are paired with peers of different backgrounds and are asked to write about the challenges that might have been faced by their partner based on their specific background.
The group should be given time for each person to talk about what they have written, and why, and for their peers to respond, giving more context to how their background has affected them.
For example, two engineers, a white, gay man, Michael, and a Black woman, Mary, are paired together. They would think about the other's background and how it might have been different from theirs.
Michael writes, 'Mary might have been discouraged from pursuing a technically difficult engineering degree because she is a woman.' Mary writes, 'Michael might have been left out of team building activities by colleagues because of his sexuality.'
Both people will walk away from the exercise understanding more about how life experience might differ based on a wide variety of factors.
A Harvard study has shown that this type of diversity training has potential for long term positive effects, as well as increasing inclusion towards other, unrelated groups.
4. Goal setting
The study mentioned above also found that goal setting can produce long-lasting positive results within diversity training.
In this activity, participants are asked to set measurable, attainable goals within their workplace.
These goals should be based around increasing inclusion, for example, challenging sexist jokes, increasing the inclusivity of language, or giving underrepresented people a platform.
When a clear path is laid out, with actionable steps that participants can focus on, diversity and inclusion training is much more effective.
---
How to make diversity training more effective?
1. Hire experts to lead your training
Just as you would hire accounting experts to streamline your organization's books, you should look to experts in diversity and inclusion to work with your organization to develop a program that will truly be effective to your specific needs.
There will be different challenges based on geographic location, the demographics of your organization, the industry, and many other factors. There will not be a one-size-fits-all solution here.
2. Offer flexible training
As more organizations face the reality that one-time sessions will not deliver lasting results, diversity and inclusion experts are in higher demand than ever.
One Seattle-based firm has risen to meet this demand with online resources, including webinars, courses, and one-on-one coaching.
This can be a great solution for companies who are operating remotely, or simply find it difficult to gather all employees in one time and one place.
3. Create long-term solutions
To create a more diverse and inclusive organization, as well as avoid having negative publicity like in the examples above, an organization should focus on a long-term plan that is led by experts, rather than producing a short-term solution as a reaction to a specific event.
Research has shown that diversity training is most effective when it is promoted on a regular basis.
4. Lead by example
When the company leadership visibly upholds the values of diversity and inclusion, employees are much more likely to follow their example.
Your organization wants to promote these values, and leading by example is a powerful way to get that message across.
5. Don't rely on only one type of training
Everyone learns differently.
Provide a wide range of education, which could include speeches, role-playing, one-on-one coaching, videos, or activities, and deliver all of those throughout the year.
Learners will get something different out of each type of content, and you are more likely to get the message across.
Check out our guide about employee development methods to find more ideas on how you can differentiate and improve your diversity training.
6. Be clear in what you want to achieve
Set SMART goals, and develop a clear path to how you will get to them.
It is useless to say that you want to 'promote diversity' if you don't know exactly what that means in the context of your specific organization. Setting goals leads to achieving goals.
7. Be patient
As we have noted above, diversity training is not something that can be completed in a day.
These biases are learned over a lifetime - they won't go away in a day.
Have patience with your employees, and the leaders of the program, and understand that it might be a while before you see concrete results. This is a marathon, not a sprint!
---
FAQ about Diversity and Inclusion training
What does diversity training include?
Diversity training can be anything from a one-hour session that highlights the various forms of bias that a person might encounter, to a much more in-depth multi-month program.
It usually includes an explanation of the various types of marginalization that a person might face, including based on race, sexuality, physical appearance, disability, religion, class, and nationality.
It then provides guidance on how a person can avoid acting with bias, giving examples of positive and negative interactions and guidelines on how to approach others with respect.
What should diversity training focus on?
Diversity training should focus on long-term strategies to build an understanding of the differences between people and how to navigate those differences in the most respectful and productive manner possible.
This includes highlighting bias, presenting strategies for reducing bias within your employees, setting SMART goals for increasing diversity and inclusion within your organization and frequently checking in on how your organization is performing.
What are the elements of diversity?
These identities include, but are not limited to, ability, age, class, ethnicity, gender identity and expression, immigration status, intellectual differences, language, national origin, race, religion, socio-economic status, sex, and sexual orientation.
Some of these elements are internal, which means an unchangeable aspect that a person is born into, such as assigned sex or race. Others are external, something that is changeable but is often born into and can often be very difficult to change, such as religious beliefs or education.
Is mandatory diversity training legal?
Mandatory diversity training is legal. However, some companies will allow employees to opt out, provided that they have a reasonable excuse for not wanting to attend.
The idea behind this is that forcing someone to attend a training that they do not want to do might backfire, and leave them with more bias than before.
The ideal solution is to present the training as a positive, highlighting the ways in which it might improve employees' experience at work and creating a positive buy-in from participants.
How effective is diversity training?
A 2019 study into the effectiveness of diversity training delivered mixed results in regards to the effectiveness of diversity training. On the one hand, they did see that attitudes towards women, and awareness of the bias that they face, was improved after the training. On the other hand, they did not see any real change in the behavior of men or white employees overall, even though these two groups often hold power within organizations and are generally the targets of diversity training programs.
That said, there is research that shows that diversity training can be effective, and the reason that existing programs are not effective is simply that they are not using the right techniques. By using the same diversity training techniques since the 1960s, which have never shown promising results, organizations are wasting time and money. If an organization wants an effective diversity training program, it should be looking at new ideas, techniques, and activities to get the results that they want.