Content Authoring
VALAMIS STUDIO
Create a great learning experience
Create lessons using engaging content that learners will love.
Use various types of assets: images, video, audio, text, questions and more.
The appearance of the learning content is highly customisable. Every element can be formatted, styled and fit to the page however you prefer.
Easy authoring with time-saving features
Content curation
Themes
Templates
Multilingual
Autosave & Versioning
Responsiveness
Videos
Create, update and easily manage lessons in one place. Compose lessons from scratch or convert existing PDF, PTTX, and video files into lessons.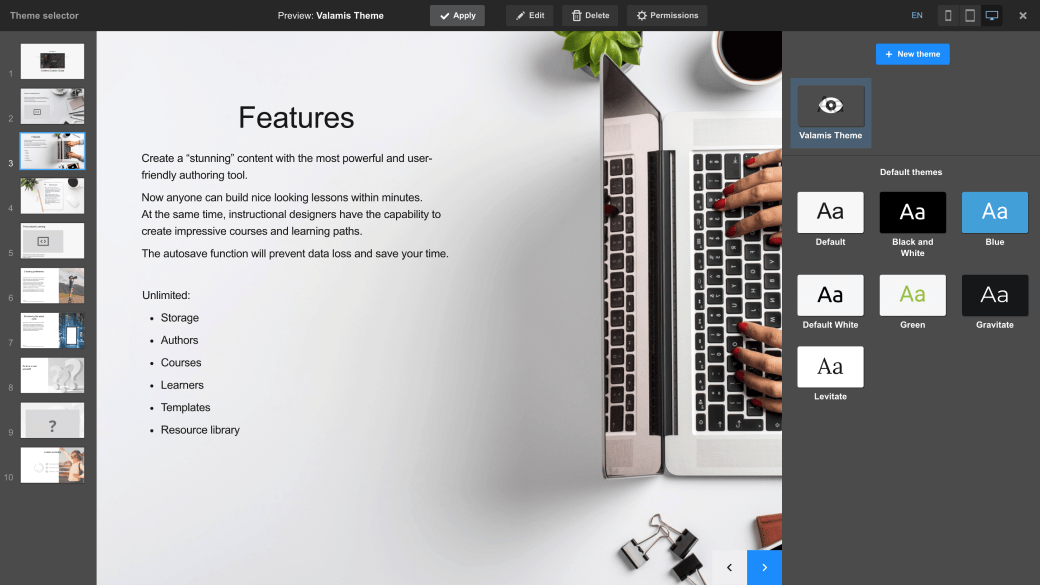 With Custom Themes you can make lessons look unique and branded. A saved template can be applied for a new lesson or entire course.
Use Page templates to fastly configure page structure, content type, elements, and their positioning, or easily duplicate an existing page.
Easily scale language versions of your content. You can add translation to your lessons right inside them, just by simply changing the language of the page.
Be free with content creation and experiments, autosave feature will save everything and versioning will allow you return to the needed version in seconds.
Create responsive content for any screen size, select required views and easily change the positioning of the content to fit the new view.
Create lessons by using YouTube and Vimeo videos just embedding the link. Connect your own channel and fastly add videos into your lessons directly from YouTube.
Convert PDF, PPTX and Video files into lessons
Create lessons from already existing assets. Lesson Studio will automatically create a lesson from a presentation, white paper, brochure and video.
Give a new life to old content. You can add additional information, hotspots, videos, annotations and any other element to your new slides and make them fresh.
Make Learning Personalised
Create unique learning paths for different roles, groups and people to get better learning results.
Compose them with lessons, courses, events, assignments and even other learning paths and configure them according to your needs.
User-friendly assessments and quizzes
Positioning
Choice
Matching
Numeric (Math)
Categorisation
FAQ
Can I import lessons created with other authoring tools into Valamis LXP?
Yes, you can import xAPI & SCORM packages, and they will be available for learners. At the same time, you can't edit them in Lesson Studio.
Do you have a content or file library?
Yes, you can upload and store various types of files in the Documents and Media library.
How can I organise lessons inside the course?
For that, you can use Course Manager, it allows you to build a great variety of courses. Compose them with lessons, events, webinars, assessments and other types of learning activities.
Request a demo
See Valamis in action. Discover in a session personalised for you and your needs how Valamis can help your organisation.