Employee Development Plan
Updated
In this article, we will show you how to create an employee development plan that truly works.
Also you will get our template with examples, tips for each stage, and best practices that we use for professional workforce development.
Typically, you would go online and download an employee development plan template. The challenge, however, is that most such templates come with too many assumptions. As a result, they may not fit the developmental needs of your organization.
TIP: Understand that an effective professional development plan should be created for specific roles, departments, or even for a specific person - NOT for the whole organization. Otherwise, the plan will simply be too generalized and unfocused; neither of which will truly help the employee.
---
Employee development plan template
Our approach to creating customized employee development plans is more of a hands-on approach in which we assess the actual employee or department and formulate a plan specific to their individual goals.
It is based on a tried and tested, a commonsense methodology that delivers tangible results. Our strategy comes without any preconceived notions or assumptions.
By the time you've implemented all the steps recommended here, you'll get a working template and learn how to scale it across your organization.
---
1. Assessing Business Goals
1) Assessing the Company's Strategy and Business Goals.
All developmental actions have to be aligned with the Company's strategy. It is the foundation of the plan, so make sure the objective is clear. If needed consult with upper management or leadership.
2) Create a macro-level assessment of your business.
Points to consider include:
Where does the business want to be in the next 2, 4, 6 years?
Where do you see opportunities for improving competitiveness?
Whether there are business expansion plans (new markets, additional factories/plants/distribution centers)
What newer technologies are out there that could support your business goals?
Formulate other questions specific to your organization and then sit down, again with management if needed, and answer these questions before developing your plan.
3) Review what's working and what's not working in the organization. This can be accomplished through interviews, surveys, or past feedback.
4) Improve. Finally, based on everything we've done, make a list of all the competencies and skills needed or a list of improvements that need to be made in order for the company to keep developing in the right direction.
---
2. Communicating with employees
Employees are key to "employee" development. It's vital, therefore, that you communicate with them about your business goals and share with them the results of your workforce assessment. Here are some tips to help you:
If employees' opinion is valued, their level of interest, loyalty to the employer, and production level increases.
Communicate frequently: If your assessment and reviews span an extended period – say 2 or 4 months – hold several communication events to keep employees "plugged in".
Communicate from the top: Since any employee development initiative will likely involve some changes to "business as usual" for employees, it's always nice to have high-level executives share those plans with employees.
Use all tools available: Create a broad-based communication plan, including emails, social media, internal newsletters, company bulletin boards.
In-person is better than emails: Where possible, hold at least some in-person sessions to communicate with employees. It makes it seem more personal and "warm".
Plan for one-on-one communication: While broad-stroke communications can take place in group settings, one-on-one sessions are best to discuss personal professional development plans for each employee.
Don't delay communicating such news: The longer you put it off, inadvertently, it fuels unhealthy rumors and confusion.
TIP: The key to making this successful is to continually revisit the concept of collaboration. Employees must be included during all phases; their feedback not only needs to be solicited but regarded. The quickest way to lose your employee's interest in a new endeavor is for their ideas to fall on deaf ears.
---
3. Reviewing Organizational Workforce
The goal of reviewing our Organizational Workforce is to gain a deeper understanding of what our employees can and cannot do. We can accomplish this by breaking it down into multiple pieces:
1. Build a Skills Matrix:
Based on the previous step, we now know what we need for development and where the real issues/problems exist. We made lists of skills and competencies that need to be developed or improved.
The next step is to build a skill matrix or competency model based on this information.
We will break this down into two separate divisions: Departments/Teams and Employees/Roles.
1.1 Departments/Teams
Based on the previous step we need to decide what needs to be done in the future, what is being used now and what needs to be improved. This stage obviously requires working with management.
Please take a look at the following example below, Learning & Development Plan 2019. Note the level of detail; this is an excellent reference for the type of matrix applicable on a departmental level.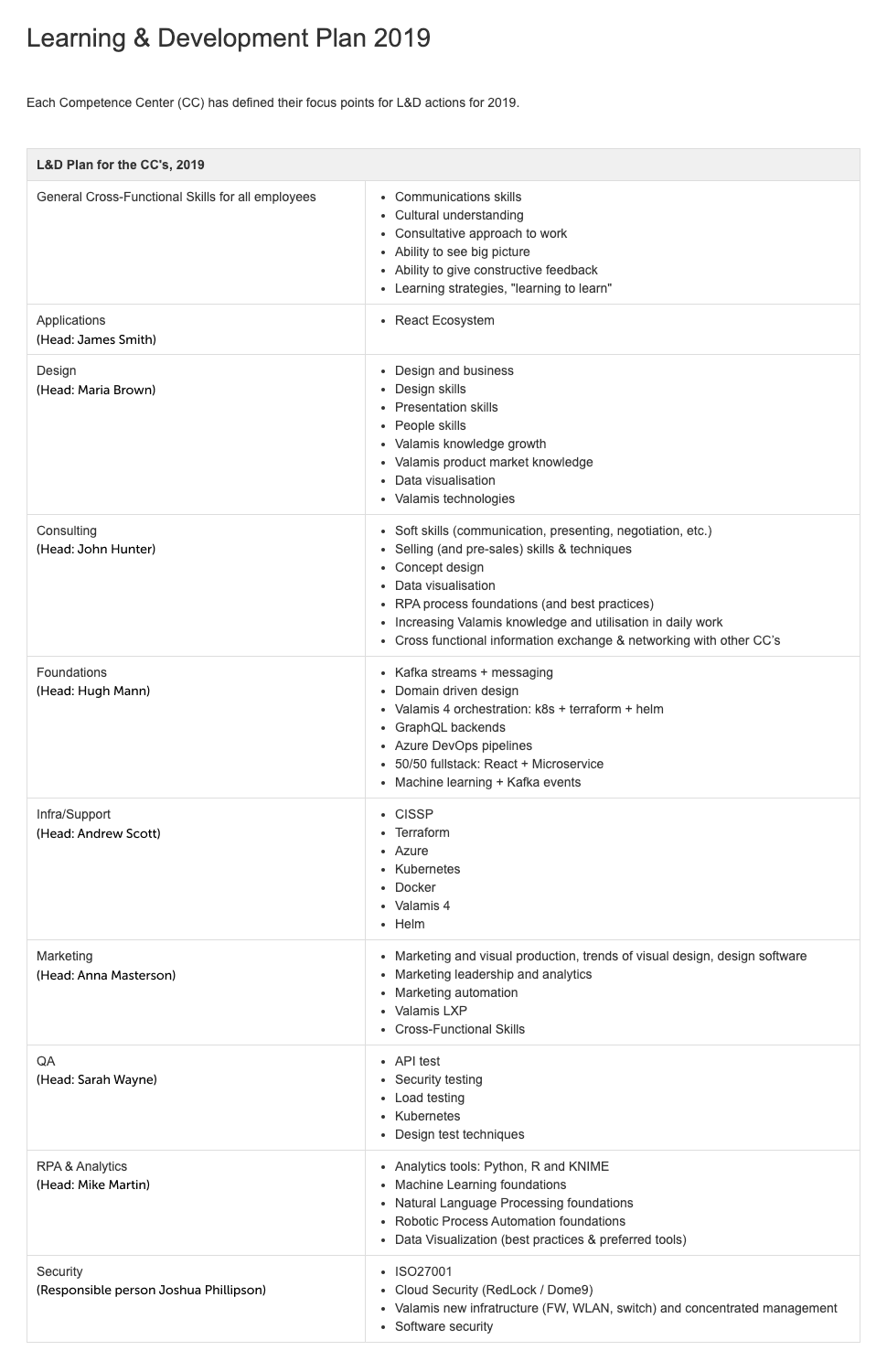 1.2 Employees/Roles
This nails it down further based on each individual employee/role and skills.
Please take a look at the following example below, Competences. Note the level of detail for "John Hunter". Not only have we identified John's skills (down to specific software), but we've also determined the level of proficiency for each.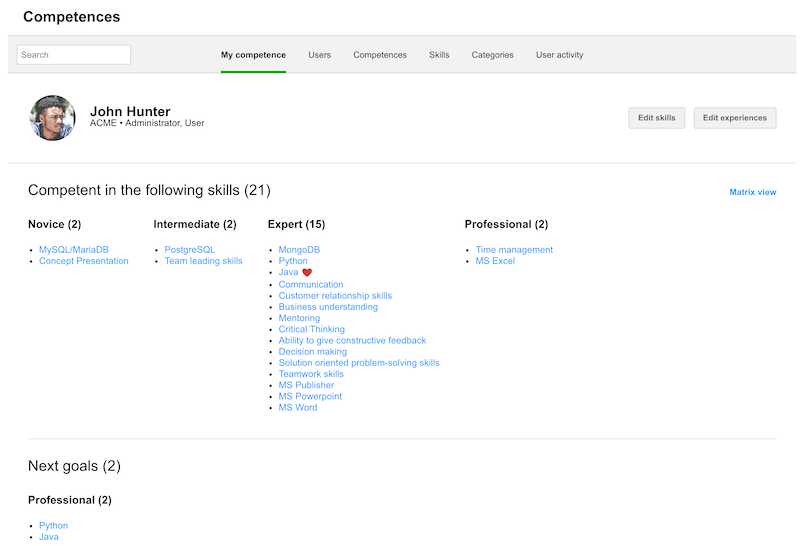 Why is this needed? This will help us understand which skills already exist in the company/organization, and based on the previous step, make a list of knowledge and skills needed to achieve the desired goals.
2. Evaluate
Finally, we want to evaluate the skills a company needs against the current skills our pool of employees possesses. For example, John Hunter reviews a list of desired skills > he adds the skills he thinks he has > the system or experts verify/grade that he meets the desired skill level.
---
4. Setting Employee Development Goals
It's important to develop a plan based on existing resources, abilities and of course, budget. In making a plan, the overarching question should be, "What needs to be accomplished for each role?"
Please take a look at the following example below, Product Area Training Plan 2019. We'll use this as an example of how to create a personalized learning path for each individual employee.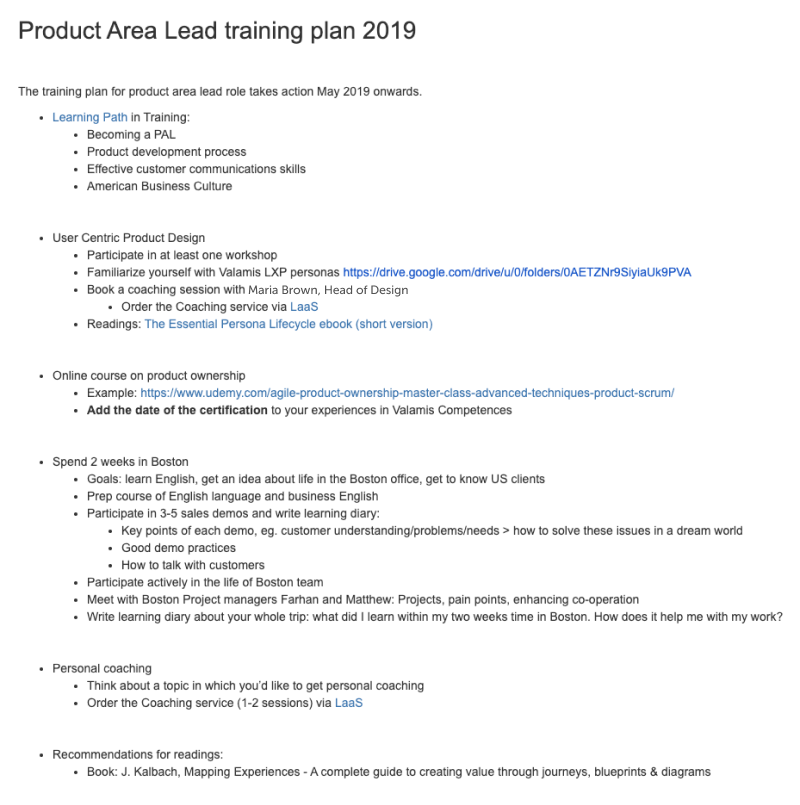 1) Make a Learning Path
Here you'll make a list of courses and activities for each role/team/department.
In our example above, for the Product Area Lead, it would look something like this:
Introduction- what does it mean to be a PAL?
Explanation of the development process
Effective communication skills for communicating with clients
Coursework: American Business Culture
Quiz – to ensure the information is retained
2) Activities that cannot be part of the course
These could include the following:
Participation in workshops (problem-solving, argumentation, working with declines, etc.)
Using the product – do it yourself, test how the product works
Meet with the manager to learn more about the product development process
External materials to read: The Essential Persona Lifecycle
3) Make a list of useful courses
Continuing with our example of PAL above, these could include the following examples:
4) Job rotation
Work trips to other offices or job rotations, for example, transferring developers to USA office:
The goal is to learn about the problems that clients face
Participate in 3-5 demos/presentations
Talk to the head of the department and find out the main problems with the product they are working with, the clients, how can the product be improved (in their opinion)
5) Personal coaching
The employee receives direct coaching based upon needs. This is usually at the request of the employee.
The goal is to gain a deeper knowledge and understanding of a defined topic. For example, How can I better track the product development lifecycle?
6) Recommendations for Reading
This is simply a list of books, publications or websites targeted for the employee's development.
---
5. Realization Stage
Keep in mind that our goal is to develop each individual employee/department and formulate a plan specific to those needs. With that in mind, one of the easiest and fastest ways (but one that requires budget) is using content providers: Linkedin Learning, Coursera, Udemy, OpenSesame, etc. The ease of access and quality of content makes such providers a valuable resource to consider.
Other methods that require more careful planning can be applied to the entire organization. For example:
Make a list of conferences for employees, which you consider they can participate in.
Organize workshops inside an organization, your own employees can be speakers or invite external experts.
Facilitate group conversations/talks (sales talks, leads, etc.). The main goal of these "talks" is knowledge sharing or to share the methods for accomplishing certain tasks. This is a great way of finding solutions to problems that may have not been previously considered. Topics for such talks can be prepared in advance or can be spontaneous.
Note: Mentoring should be part of a separate plan. It should include timelines, a list of mentors/mentees, checkpoints and final reviews.
---
6. Reviewing & Monitoring Results
The question that needs answering here is, "How did our Development Plan influence the processes?"
"Only 8% of CEOs currently see the business impact and only 4% see ROI of Learning & Development"
This is NOT the result we're going for! However, plans that are poorly constructed, vague or lack follow-through often net these results.
Change this by nailing down what improvements came about as a result of employee development. Understand that creating the plan is just the beginning – it must be implemented and reviewed to have lasting value!
Learn more in our white paper: Achieving Learning Impact: Aligning Corporate Learning For Business Outcomes
Monitoring results: This must be done for individual employees, and for the department as well. Things to monitor include:
Have individual development and department targets been met?
Has employee performance improved as a result of the development plan?
Have problems or challenges been solved?
Has the plan delivered as expected?
If there are shortcomings – either pertaining to individual employee development, or in the plan itself, what were the reasons and how do you resolve them?
---
7. Going Back to the Drawing Board (if needed)
Employee professional development is vital for the organization. So, if you are not satisfied with the feedback you get during the rollout – don't hesitate to go back to the drawing board.
Revise/fine-tune components if required
Hold formal assessment
Give employees an opportunity to provide feedback and inputs
Did you address the main question, "How did our Development Plan influence the processes?"
This 7-step employee development plan primarily sets out a series of sequential steps that organizations can take to build a comprehensive plan of their own. For instance, you can't conduct a Workforce Review (Step #3) without doing a comprehensive Business Goals Assessment (Step #1).
Additionally, when building your own employee development plan, we cannot stress enough the importance of Communicating With Employees (Step #2). Since the focus of the plan is your employees, they must be the center of everything that you do. As a result, Step #2 will likely be a recurring theme through the 7-step cycle.
---
Bonus: Continuous Learning Approach
Try to build a learning culture in the organization (more information can be found in this article on continuous learning). The main goal is to promote and encourage continuous development and training.
Create communication channels for learning and development: Social learning is a powerful tool, one such example being the team collaboration tool Slack, which can also create personal education/learning channels and share useful information.
Encourage employees to share useful articles and books.
Allow your employees to select courses that they think will benefit them and compensate them by paying for these courses.
Hold lunch presentations or discussions on a monthly basis. Provide food and have one of the employees share something about new technologies, something that they recently learned at the conference or course.
Mentoring is also a great way to promote a learning culture. Offer opportunities for employees to choose the topics they want to learn about and help them find a mentor who has experience and can help them.
Be open to employees' ideas – oftentimes, they know much better than management what courses or conferences they need to take/attend to improve productivity/performance.