Hard Skills vs Soft Skills
Updated
When you are looking for new recruits or promoting from within there will be a set of skills your roles require. Some skills people will have as part of their nature, while others need to be taught.
The hard skills can be defined as part of the role specification. And soft skills are defined as the person specification.
After reading this guide you will be able to clearly define the hard and soft skills needed for your open positions. And it will also benefit those looking to revamp their CV and highlight their best skills.
Discover: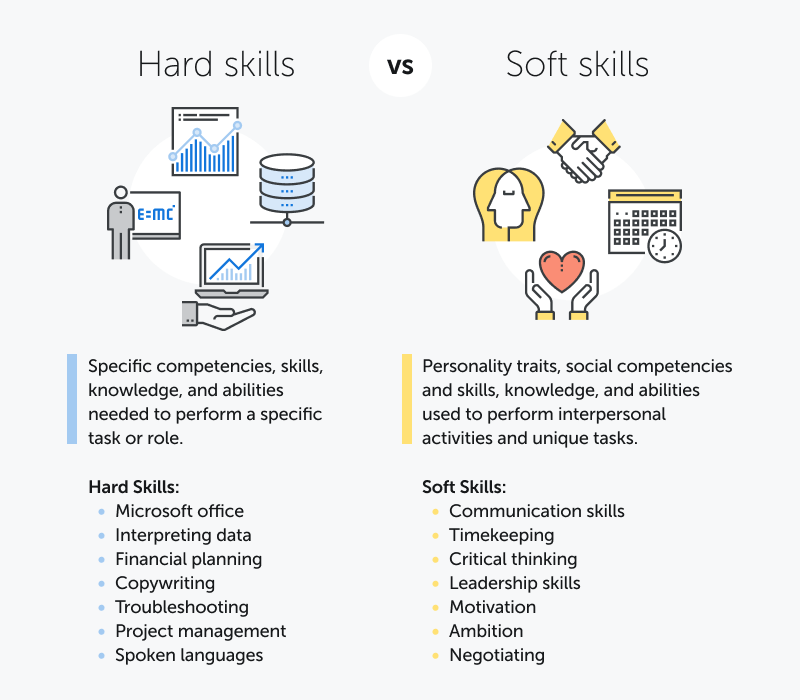 ---
What are Hard Skills?
Hard skills are specific competencies, skills, knowledge, and abilities needed to perform a specific task or role. They can be learned through education and professional development. Usually, they are technical (but not always) and easily measurable.
Hard skills can be demonstrated through educational certificates or practical demonstrations.
For example, software development requires knowledge of some programming language and can be used for a variety of tasks, but the main goal is to write a computer program. The proficiency level can be easily measured.
Another example, design (of course it can be different - interior design, web design, etc.) but in general it is a specific skill set needed to perform exact tasks.
Microsoft suite knowledge, another example of hard skills, you can learn how to use Microsoft Word and Excel, and most often it will be needed for specific tasks.
So, each role will have different skill set requirements but they will be needed to perform a specific task.
---
What are Soft Skills?
Soft skills are personality traits, social competencies and skills, knowledge, and abilities used to perform interpersonal activities and unique tasks. Sometimes they are also called human skills.
Usually, they are more closely linked to people's personality traits they are born with and social skills. But they also can be trained and developed through practice and professional development.
Unfortunately, it is not that easy to gauge if someone has the right soft skills as there is less information to draw upon. This is especially true when hiring new employees as their soft skills will need to be assessed by getting to know them.
There are specific techniques and tests that can be used to measure soft skills, but note the results will be quite vague and not accurate. Only real-life situations will display how good people are in this area.
Certain soft skills you would ideally like all of your employees to have are punctuality and collaboration. Other skills might only be necessary for specific roles like leadership, communication, strategic thinking, and problem-solving.
Soft skills don't come with certification but they are easily identified while working with someone. People with leadership skills will naturally take ownership and step up to lead. Those who are excellent timekeepers will always be on time or be forthcoming about potential lateness.
How to develop hard and soft skills?
You can check our article about employee development methods, we have mentioned what methods work best for different skills sets and particular skills.
It will help you find ways to train your employees and improve your own skills.
Regarding leadership skills check our leadership development plan guide because it is a unique skill set and it requires specific training.
One way to map, manage, and track the required skills and skill gaps of your employees is to use a skills matrix.
---
What's the difference between hard skills and soft skills?
The main difference is that soft skills are heavily linked to an individual's personality and are not something that can always be taught.
Of course, there are courses you can send people on to develop leadership skills, communication skills, and other soft skills. However, there is always going to be a natural element at play here. Some people are simply more likely to have good leadership skills than others.
Hard skills on the other hand are much more grounded in what people learn, they are focused on a specific task and can be taught more easily. You can send people on development courses to learn new hard skills or develop the skills they already have.
Throughout a career development, people might, or even will have to, change their skills set and develop more soft skills, especially if they are taking leadership positions. They will have practical knowledge needed for the role as well as having the interpersonal skills to make them shine.
Important: Your best employees may not necessarily be those who can exhibit great skills in both areas. Of course, that will be a plus, but not all roles require both skill sets.
---
List of hard and soft skills
There are many hard and soft skills, so that we will list only a few.
| Hard skills | Soft skills |
| --- | --- |
| Web development | Communication skills |
| Microsoft office | Timekeeping |
| Interpreting data | Persuasion |
| Financial planning | Leadership skills |
| Copywriting | Motivation |
| Troubleshooting | Ambition |
| Project management | Negotiating |
| Programming skills | Critical thinking |
| Social Media Marketing | Creative thinking |
| Bookkeeping | Work ethic |
| Spoken languages | Collaboration |
| Adobe Creative Cloud | Active listening |
| CRM platforms | Positive attitude |
| Research | Energy |
| Data engineering | Enthusiasm |
| Design | Friendliness |
| Diagnostics | Honesty |
| Google analytics | Confidence |
| Sales funnel management | Problem-solving |
| Coding languages | Adaptability |
| Construction | Conflict resolution |
| Content creation | Inspire people |
| Storytelling | Mentoring |
| Presentation skills | Empathy |
| Logistics | Patience |
| Business development | Cleanliness |
| Engineering | Cooperation |
| Market research | Emotional Intelligence |
| Quality assurance | Influence |
| Technical writing | Self-awareness |
| Affiliate marketing | Networking |
| Editing | Multitasking |
| Proposal writing | Competitiveness |
| Video production | Respectfulness |
| Auditing | Independence |
| Carpentry | Perseverance |
| Plumbing | Dependable |
| Business etiquette | Self-awareness |
| Forecasting | Wit |
| Data presentation | Persistence |
| Prototyping | Trainable |
| Systems administration | Public speaking |
| Search Engine Optimisation | Understanding body language |
| Marketing strategy | Flexibility |
| Facebook marketing | Supervisory skills |
| Google Ads | Delegation |
| Lead generation | Courtesy |
| Online advertising | Showmanship |
| Conversion optimization | Diversity and disability awareness |
| Link building | Accountability |
| DevOps | Self-confidence |
| User Interface Design | Customer service |
| Accessibility | Team Management |