Published
While skills gaps have always existed, workforces are currently undergoing dramatic changes that have exposed the shortage of expertise required for the new digital economy.
Therefore, in order to build an effective workforce for the future, organizations need to understand their existing skills gaps.
Discover:
What is a Skill Gap?
A skills gap is the difference between an employee's current abilities and the skillset best suited for their job.
Companies have a desired set of skills to perform a given role successfully. This list of skills is dynamic and changes depending on external market forces and internal organizational changes.
Finding employees to match the required skills for every position is challenging; therefore, skills gaps exist.
Many factors can contribute to skill gaps:
A lack of experience
Inadequate training
Poor recruitment
Employee turnover
Failures in the broader educational system
Change in roles or responsibilities
Skills gaps can lead to workplace inefficiency, with staff struggling to handle their responsibilities or perform assigned tasks. In addition, severe skill gaps may lead to employees being unable to perform their roles.
In addition to focusing on an individual's skills gaps, the concept can also be applied at a company-wide level.
Management can use skill gap assessments when introducing new procedures, technologies or take them into consideration when looking at work culture.
The Importance of Analyzing Skill Gaps in Your Company
Skills gap analysis is a critical tool for organizations to assess the effectiveness of their workforce.
Identifying any skills gaps present and understanding how they limit company performance is becoming essential thanks to new technologies transforming many business sectors.
With AI, automation, and other advances, many roles are becoming obsolete, and organizations need to source new skills to match growing technological needs. However, research by McKinsey in 2021 shows 87% of organizations expect to experience skills gaps in the coming years, with 43% saying they already have one.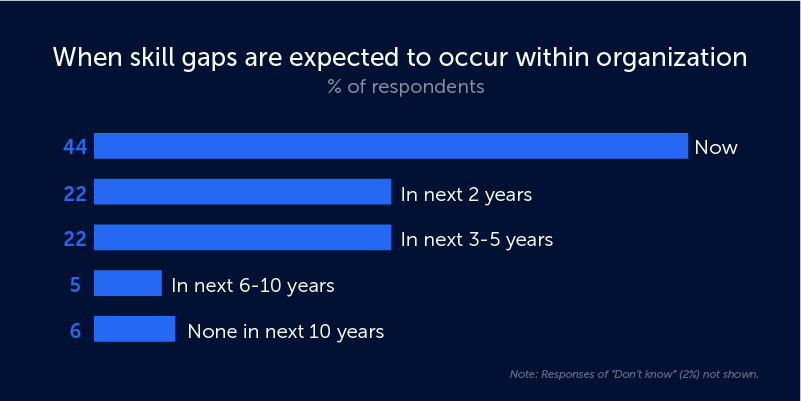 A 2022 survey of CEOs by Deloitte found labor and skills shortages were the 2nd most cited external factor disrupting their business strategy. Also, with the rise of the digital economy, a Salesforce survey found that 76% of global workers don't feel equipped to operate in new digitally-focused workplaces.
To respond to this gap, organizations must assess their existing workforce and develop active training programs and recruitment strategies to meet the moment.
Benefits of successfully overcoming skills gaps lead to a range of benefits, including:
Developing a complete understanding of your workforce
Greater productivity
Improved agility
Clear workforce planning strategy
Competitive advantages over other organizations
The Three Types of Skills Gaps
Skills gaps can exist in various forms. However, generally speaking, they can be separated into three main types:
Knowledge Gap – a lack of knowledge related to the job. This could be the specific knowledge required to perform tasks successfully, the knowledge needed to understand how the work fits in the wider organization, or the institutional knowledge particular to a given organization. Removing knowledge gaps can improve employee performance and collaboration between staff members.

Skills Gap - while knowledge generally refers to learning information and an individual's intellect, skills refer to the ability to apply the proper knowledge in a given situation. Whereas employees can pick up knowledge through studying, skills must be performed. The skills needed for a particular job could be mental (e.g., coding ability), physical (e.g., fitness required for a physical role), or soft skills such as communication and emotional intelligence.

Performance Gap – a lack of motivation or engagement leading to poor performance. Unlike the previous two types, performance gaps occur when an employee with all the tools to be successful underachieves. This could be for several reasons, including poor management or individuals being a bad cultural fit for the organization.
The Challenges of Addressing Skills Gaps
While many workforces clearly have a problem, addressing skills gaps is challenging. Research from McKinsey found only 33% of capability-building programs always or often achieve the desired results.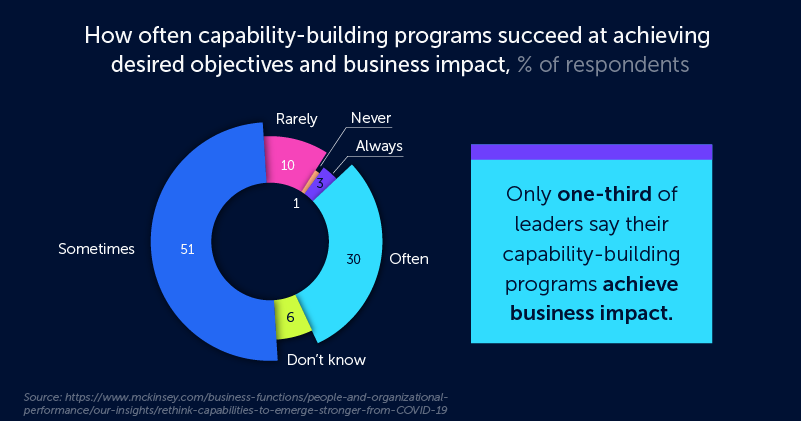 So why is it so hard to overcome workforce skill gaps?
The same McKinsey research found leadership plays a critical role in the success of skills gap programs, particularly in setting an example for employees. Surveys found that 65% of respondents believe executives should participate in L&D courses as trainers, facilitators, or learners. Leadership buy-in and modeling the same behavior asked of employees improves success rates when addressing skills gaps.

Whether through training or hiring, overcoming skills gaps costs money. Many organizations want the benefit of an up-to-date productive workforce but are unwilling to make the investments necessary.

Similarly, many organizations look to take shortcuts when it comes to addressing skills gaps. For example, McKinsey has developed a lengthy process around planning, developing, and implementing infrastructures to retrain employees post Covid. Their research found organizations that follow every step are 2.5x more successful than those that skip just a single stage.

When looking to remove a workforce skills gap, it is easy to define the objectives; it is much harder to define the journey. Employees like to learn in different ways, and it can be challenging to implement appropriate formats that cater to everyone's preferences. Whether it is digital learning, group workshops, expert coaching, or one of many other formats, the best skill gap programs are tailored for each employee.
Ways to fill the gap
There are various ways to fill skills gaps and develop a future-proof workforce. This includes training in the form of:
Reskilling – training employees to transition to a new role
Upskilling – adding new skills, so an employee improves at their existing role
Digital training – focusing on the digital skills needed in the modern workforce
Or new hiring practices based on filling existing skills gaps and recruiting better-skilled staff.
Addressing workforce gaps requires extensive skill gap analysis, the process of determining the difference between what an organization needs from its staff and what it currently receives.
Skill gap analysis requires effective HR processes to accurately reflect the performance of employees and identify the skillsets and knowledge currently lacking or underdeveloped.
You can start by mapping the employee skills and use our Skill matrix template.